After several long winter months of having my legs tucked away under tights, the first warm days of Spring are appearing and I'm excited to test out a new self-tanning product that will, hopefully, make my ghastly white pins socially acceptable again. The product in question is Summer Glow by Antidote; and the promises it makes are nothing really new. No bad smells? I've heard that a million times before. But the first thing I can tell you about Antidote's fake tan is that, true to its word, it doesn't smell bad. In fact, it actually smells rather good.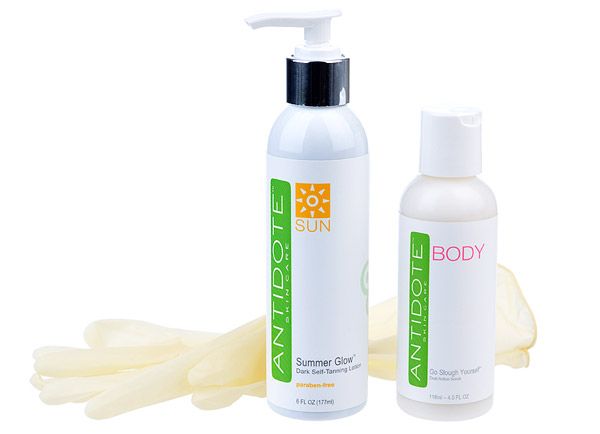 I do a fairly rushed job of applying the tan so expect there'll be some streaking. Nope, it goes on smoothly; and being based on a deep brown tone rather than having an orange base, the colour is natural looking.
Summer Glow's tan developed in no time, and a single application lasted a good few days before gently fading away.
The only thing that could really improve on my experience with Antidote would be to avoid having to go to the effort of wearing gloves. That said, it's a pretty small price to pay for a fast developing, pleasant smelling and natural looking tan.
If you'd like to give Antidote a shot yourself, you can also get 20% off for a limited time – visit http://www.antidoteskincare.com/ and use the coupon code 09BLFSH at checkout.
You can also visit the forum thread below to tell us your own thoughts and experiences on Antidote or other tanning products.