If you've perused the photos from the Victoria's Secret 2008 Runway Show, you'll know that the Angels were looking bronzed and beautiful to fit with the show's theme, Return to Glamour. Lead makeup artist Charlotte Tilbury created the beauty look for the night using products from the Victoria's Secret Very Sexy Make-up collection. Read on to find out how you can get the look.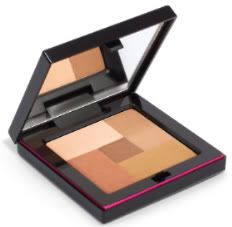 For Eyes: Shimmer is key, apply eyeshadow on the lid as well as the inner corner and bottom lash-line of the eye, making them stand out event more. Apply the lightest shadow right below the brow. The bronze colors should be applied all over the lid, and the darkest in the crease of the eye.
After applying eyeliner, apply 3 coats of Victoria's Secret High-Definition Mascara in Blackest Black.
For Lips: First apply Lip Stick in Whisper, then on top of Whisper mix Lip Gloss's in Cupcake & Intimate.
If you're in the US, you can catch the Victoria's Secret parade on CBS, Wednesday the 3rd of December. In the meantime, there are plenty of photos of the show in the gallery below.