I'm all for plastic surgery. Whether it's because Mother Nature has started to take her cruel toll, or because various parts of you might have needed the odd enhancement to begin with, as long as you're comfortable with it then go for it. Within reason.
You see, "within reason" really is the key. And Lindsay Lohan has completely overlooked it.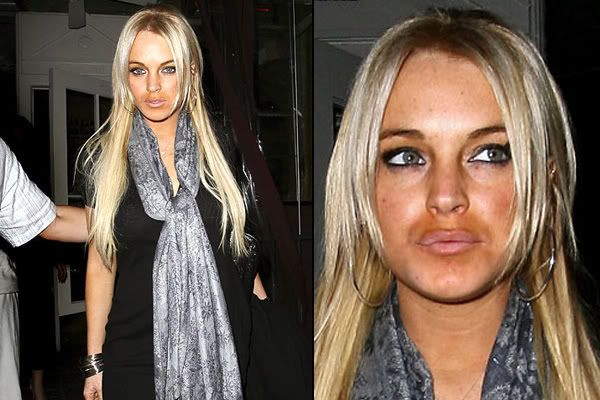 These photos have me all confused.
By all means, get your pout enhanced with some collagen. People have been going nuts for fuller lips ever since every woman declared they'd swing the other way if a night with Angelina Jolie was on the cards. But Lindsay here has broken the cardinal rule – while your skin settles down post surgery/enhancement, hide yourself away.
She's also broken another cardinal rule. One that doesn't relate to cosmetic surgery. And that is: fakes tans should look natural. Yes, the point of any type of surgery or skin enhancement is really to look better, but also to come off as looking natural. Like God made you and broke the mould. Like angels weep in awe of your beauty.
Instead Lindsay Lohan seems to think that sexy in the 21st Century is akin to looking like your lips have been jabbed with a few needles, and a sun tan moustache is the new treatment de jour.
Bring back the sexy, so we can love us some Lohan, says I.
Related Lindsay Lohan Updates