Oh Lindsay Lohan, how you do amuse me. Not not just for your wild child antics. Nor because you simply love posing naked. No, it's because you're one of the few Americans who have an British sense of humour. At least, I assume you do. After all, your launching of a fake tan product, Sevin Nyne Spray Tan, can only be a tongue-in-cheek attempt at self-depreciation. Right? Of course I'm right. After all, you've had far too many fake tan accidents, and even no tan at all, to lend any credibility to a fake tan product. Humour. You jest. It's April Fools a few weeks early.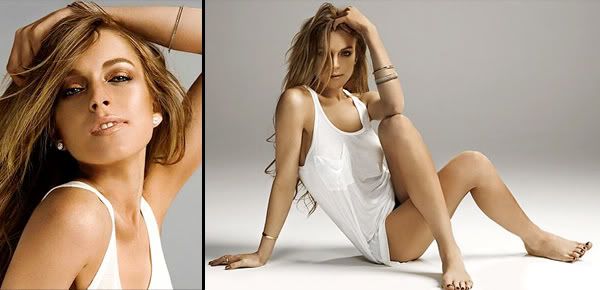 Alas, I jest.
And the quest for a perfect fake bake is precisely what led her to create her own. "As much as I love the sun," she says, "it is so bad for your skin. I have tried every product on the market and never found something that I loved." Until, that is, she met spray tanner Lorit Simon. "She had an amazing tanning formula that over the years we continued to perfect," Lindsay reveals of the partnership. "It was important to me to have a natural product that didn't have a lot of dyes and chemicals. Our product has goji berry extract which has antioxidant properties, it has a natural golden color, it doesn't streak and smells delicious – not like a typical tanning product."

The $35 spray will become available exclusively in Sephora stores on the first of May – with an early web launch on Sephora.com on April 15.
Even in the digital realm I know you, dear reader, are nodding approvingly. Phrases such as "goji berry" and "antioxidant" have you convinced that despite all the cigarettes and alcohol, Sevin Nyne fake tan will not only save your life but also give you an "ever-present bronze glow." And I can see you reaching for your credit card as I type this, Lindsay's fake tan credibility having convinced you to purchase the product. I can also see a pink elephant trundling down my street.