Leave it to style maven Diane Kruger to take both the jewel encrusted and backless fashion trends to the extreme.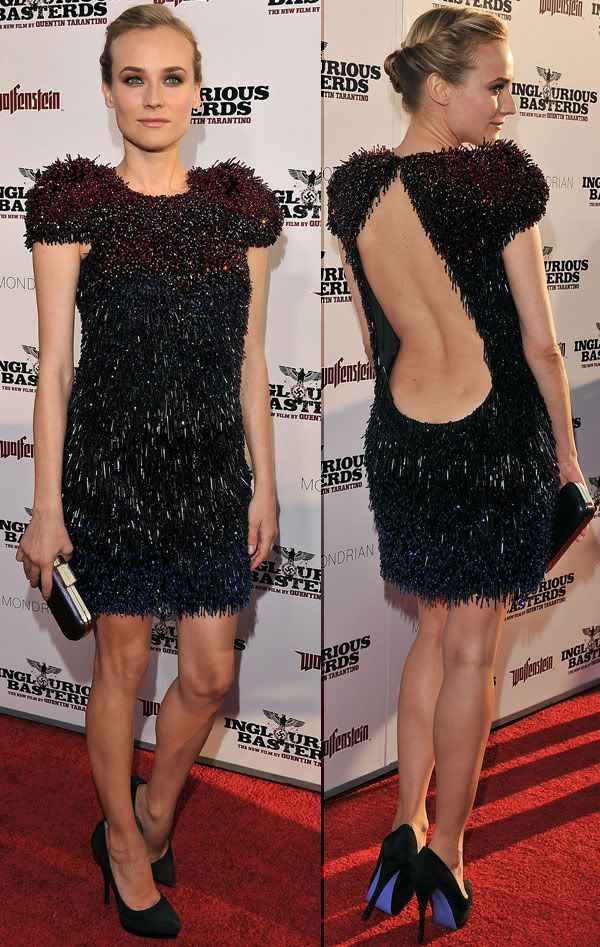 Attending the premiere of Inglorious Basterds in Los Angeles, Kruger wore a mini dress from Versace Atelier's Autumn (Fall)/Winter 2009/2010 collection, and I don't associate with the word 'extreme' with the dress lightly. Consider the jewel encrusted trend: Kruger's mini-dress touts black glass fringes lavishly finished in ruby, amethyst and sapphire coloured crystals. Or perhaps you'd rather consider the backless trend: where the lower part of the silk mini dress begins again is actually so low I have no doubt that it raised more than a few eyebrows.
But I don't level either of those points as a criticism. Once again Kruger takes to the red carpet in a style that feels wholly her own and, refreshingly, un-styled.
You can see more pictures of Diane Kruger at the premiere of Inglorious Basterds in Los Angeles by clicking on the thumbnails below.