Christmas and New Years are upon us and chances are you're going to end up at lots of parties, functions, family dos and office gatherings. Knowing which dress to wear is often tough, so to take some of the pain away we've put together this guide.
Simple: If you're after something simple that's chic but still appropriate for work bosses and 80 year old Aunts alike, try something knee-length in a classic colour and that doesn't hug too much. The Topshop tea-dress above is perfect for such criteria, and won't break the bank.
Figure-hugging: You're looking to really impress and blow everyone away. Herve Leger's bandage dresses are the figure-huggers of the moment. Embrace curves and stick it to them.
Professional: For office parties and corporate do's, something sleek and classic like the RM Moon Dress is perfect. Add pearls and a pair of pumps and you'Äôre set.
Cocktail: You want to look festive, but of course retain your elegance. Go for something with colour and flair to make you stand out but with enough elegance to make you stand out in a good way. Ralph Lauren's taffeta strapless dress is the epitome of cocktail party chic.
Edgy: There are plenty of young funky options out there – this one from Australian label Alpha 60 has the interesting detail and short hem, but in a safe black. If you want to go more daring, mix it up with bright accessories.
Cosy: A knit dress helps if your event is outside in cold conditions or somewhere you just plain feel like being comfy and cosy. Add opaque tights and heels or boots and you can feel warm and look hot at the same time.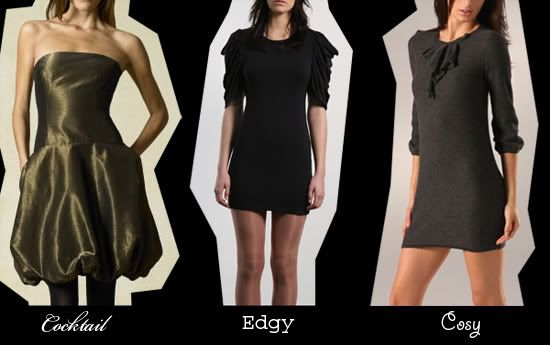 This article was first published in the Fashionising.com newsletter. Sign up now for more articles direct to your inbox.