Normally when it comes to the sheer fashion trend, it's the other way around. But not this time.
Gwyneth Paltrow's sheer dress from Antonio Berardi leaves too much to the imagination.
There I've said it. And no, I'm not imploring all out nudity (though believe me, nudity and fashion will ironically be the same thing in the near future), but Gwyneth Paltrow really could have made a much better impact by simply taking her bra off.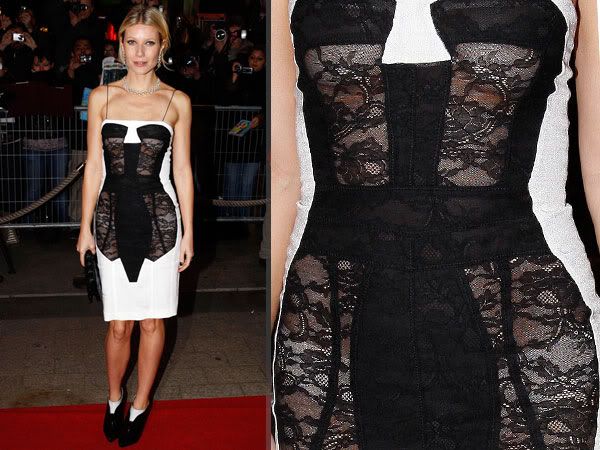 No, I don't intend for that statement to have any sexual connotations, I just honestly believe that Paltrow committed a major fashion faux pas by wearing a stick on/strapless bra that is all shades of ugly. Hollywood tape and skin-colour nipple covers would have been fare more dramatic, effective, and done wonders for the overall look; she could have even resorted to a stick on bra which was a closer shade of her skin.
But if the bra wasn't enough to detract from the overall look, Paltrow also wore equally dull, and equally pale underwear. I'm not for a minute suggesting she should have taken these off; 'going commando' isn't my idea of a great interpretation of the sheer trend. But again, why did she need to wear them in colour blatantly paler then her skin? With all the nude coloured underwear available on the market, surely she could have chosen better?
Yes, it's a hot look. Yes, it's daring, fashion fowards, and perfectly on trend for 2009. But with a little bit more though and effort by way of her underwear, Gwyneth may have had a perfect red carpet look on her hands much like she did the last time she wore something sheer.
Gwyneth Paltrow wore the see-through Antonio Berardi dress at the Two Lovers film premiere in Paris. She paired it with two-toned Rupert Sanderson ankle boots, Chopard jewelry and a Hugo Boss clutch. You can see more pictures of the look by clicking the thumbnails below.