While we've seen 2007's hair band trend and, more recently, the feathered hair band micro-trend I never really thought we'd see the garland headband pop up as a bit of post-Christmas merriment. Of course, my non-thought didn't take into consideration Lily Allen, nor her need to promote her new album.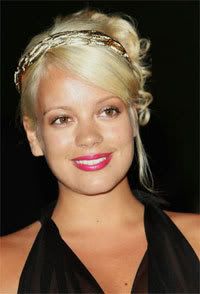 And seemingly I also forgot to take into her account to pull ridiculously cute faces while attempting to peer under her fringe. In fact, it's all a bit ridiculous. Christmas is past us and it looks like some Victorian-mourning get up. But that doesn't make me love it any less. Damn cute faces.
Still, at least I can take some comfort in the fact that she looked far sexier the last time I spotted her with a headband; that was at the Cannes Film Festival. Strikingly blonde, looking as fresh she's capable of, and the headband seemed far more sensible. Or maybe I'm just fooling myself into believing that, having as equal a thing for blondes as I do for cute faces.
You can see more of Lily Allen out in her headband (you'll think she's far less cute when you spot the UGG boots) by clicking on the thumbnails below.