Here at Rogue Connect, we love what Thomas Pink can do with a shirt. And now the quintessential British shirt maker has applied his magic touch to the humble tie, combining both fashion and function. We love it.
Thomoas Pink's 'Commuter Tie' makes carrying your iPod Nano neater and cooler. Extra loop to keep the wires tidy; and sure beats having your MP3 player strapped round your arm when you're on your way to a business meeting.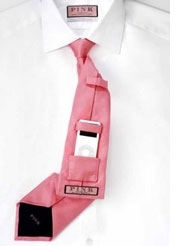 Read more about this neat little iPod tie design.
Tags: thomaspink tie ipod