We've seen some decent variations on the animal print trend: from Jessica Alba, to Christina Aguilera in Christian Louboutin's Rolando heels. Now, observe what happens when the animal print trend goes wrong.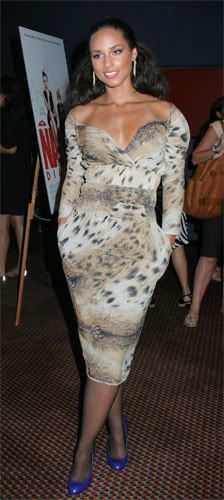 Truth be told, there's actually nothing wrong with this dress. The fabric, the colour, the pattern are all quite nice. But Alicia Keys misses the mark with the fit (the shoulders are sitting off, making her look wider than she is) and the off accessorising of purple shoes.
Are you a fan of the outfit? Vote here.
For much more on the animal print trend, visit the forums.