Truth be known, I'm a fan of calendars. I have a few up around the house. But not once do I use them for their purpose. You won't find notes in any of my current three. And I can't recall the last time I looked at one to actually contemplate what the date was. Surely they're not for that? Case in point: I recently skipped an entire month from my Pirelli calendar because I was convinced that a photo of a topless Sophie Dahl might be so damaging that I'd be left with a life-long need of viagra.
Rather I like to look upon my calendars as little, frameless art installations. Each month I get a new picture, photo, setting or idea upon my wall. With each new month comes another piece of inspiration, or a new enjoyment. And given that they can have so much influence upon a room it's important that if you're giving one as a gift this Christmas you pick the right one. Sadly with such a plethora or cheap calendars out there it's easy to fall into the trap of giving one that is somewhat lacklustre or down right awful.
So what should be gracing your friend's (or your own) walls in 2008?
For shoe lovers
Who knew that retifism (shoe fetishism) was so prominent in the calendar industry? We can't imagine too many guys being the recipients of these calendars, so what can you get for your BFF who has a penchant for her shoe cupboard?
For those who like their shoes as art a mini-wall calendar from the Metropolitan Museum of Art, featuring the likes of the vanishing wedge shoe and the pony tail boot, will do the trick. For the utter addict there's the option of the Shoes Page-A-Day Gallery, though we suspect seeing different shoes every day will upset some people given they don't actually get to wear different pairs each day. And for the friend who wants to place their love of shoes upon their desk at work, there's always the Just the Right Shoe desk calendar.
For the handbag lover
What's good for the goose is good for the gander. And it should be the same for handbag lovers. So if you're buying for someone who wears their fetish on their arm, or you yourself are lusting after a new Kelly bag, then there are calendars out there for you too.
You can have shoes as art, so it stands to reason taht you can have handbags as art. You can also have them every day of the year with the Handbags Page-A-Day calendar. If you're after something a little lress frequent, than there is always a Mini Wall Calendar in the same vein.
For the fashion lover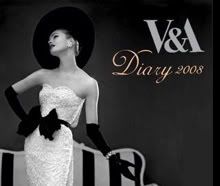 Shoes and handbags not hitting the spot? After something more broad perhaps? How about some calendars dedicated to the most influential fashion eras.
Featuring a number of prints from the Gazette du Bon Ton, the Golden Age of Fashion wall calendar captures the classical fashion of art deco. The calendar's artwork is by prominent French artists including Raoul Dufy, Bakst, Barbier, Georges Lepape, Andre Marty, as well as couture designer, Paul Poiret. For that added touch of class dates are provided in both English and French.
Art deco period too early for you? How about something equally as classical if slightly later. The Victoria and Albert Museum have produced two calendars based upon The Golden Age of Couture from 1947-1957; one in the forum a pocket diary and the other in the form of a desk diary.
The Holy Grail of Calendars
As odd as it may seem, the holy grail of fashion calendars can't be bought. Well it can, but do you have a spare thousand dollars handy? That's what you'll pay for it at auction.
If you're not willing to splash the cash, and you haven't been lucky enough to secure your spot on Pirelli's VIP list, then a book may be in order. The Complete Pirelli Calendars features photos from all the calendars created between 1964 and 2007. While 2008's photos won't grace your walls this year, you will be able to find plenty to peruse with 43 years worth of photos.
This and more great Christmas ideas in our 2007 Christmas gift guide.