Many girls (and guys) are avidly and anxiously awaiting the release of the big screen version of Sex and the City (see the full forum thread of images from the movie here). Well renowned as being an inspiration for it's costume and styling, the TV series saw many trends shoot to mainstream consumption, and had women world-wide pining for the clothes, lifestyles, and fashion-senses of the show's four main characters.
But will the Sex and the City movie live up to this reputation?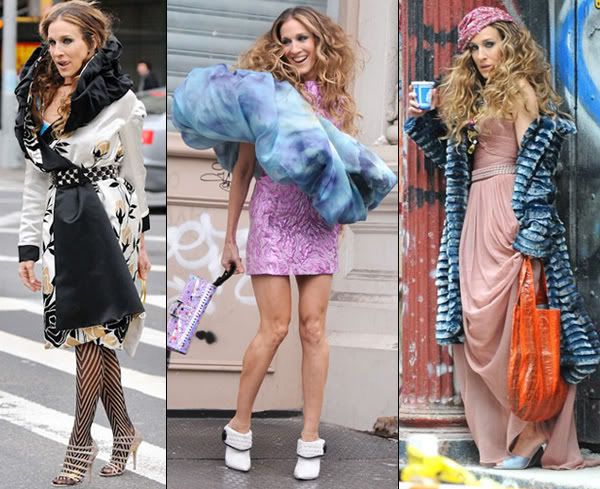 With a plethora of other TV shows attempting to recreate the fashion following of SATC – from Gossip Girl to Cashmere Mafia – Sex and the City has to try harder than ever to compete. And from what we've seen so far, that isn't necessarily a good thing.
Take, for example, these shots of Sarah Jessica Parker's Carrie wearing something that resembles a giant human-sized hair scrunchy. Not a trend likely to be taken to on the streets. Or this mish-mash of styles which look more hobo than foho. Once the show is in it's full-screen gloss will all be forgiven? Will we end up running out to buy what the ageing stars are wearing? I guess we'll find out when the film is released whether the costume is really trying to hard to be fashion forward; or whether it has some tricks up its sleeve.