The fact that we're already wrapping up 2008 and a year of fashion can mean only one thing: Christmas is nearly upon us. Thus, there's no better time to throw a party; and, to make any Christmas party a roaring success, there are a few must-have things Fashionising.com believe no party should be without this Christmas.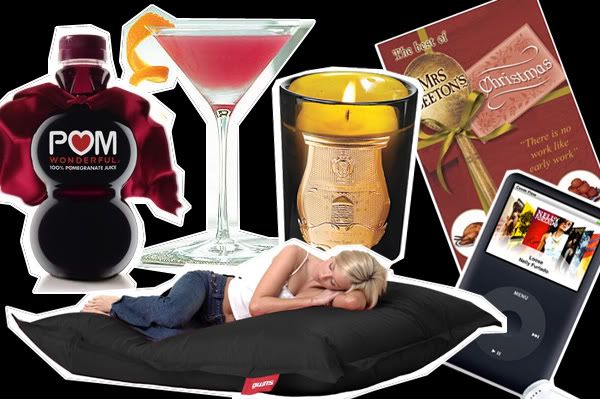 POMtinis – an awesome Christmas Cocktail
You have lots of options for Christmas drinks. Naturally, egg-nog is mandatory. But if you want something a bit more upmarket and exotic, try this twist on the traditional martini, using Pomegranate juice.
Ingredients:
45ml vodka
45ml grapefruit juice
15ml sour mix, or 15ml freshly squeezed lime
15ml simple syrup (equal parts sugar and cold water dissolved together)
Spiraled orange rind for garnish
Ice cubes
Directions:
Assemble all ingredients in bar or mixing glass. Shake well with ice and strain into a chilled martini glass.
Original recipe calls for a garnish of spiraled orange rind or fresh pomegranate seeds – but my take is to add a little something green (e.g. mint leaves) for a truly Christmasy feel.
A Sumo beanbag
You might not think of a beanbag as a party must-have: but let me assure you, a Sumo beanbag definitely is. Not only are they rip-proof, water-proof, versatile, and ridiculously comfortable (perfect for lounging around on while sipping a few drinks, and much more interesting than normal chairs), my much-loved Omni chair is actually big enough to double as a mattress. Ye who drinks too much: you know where you'll be crashing for the night.
Traditional Christmas food
Mrs Beeton to traditional food is like Louboutin to shoes. I made two traditional plum puddings, Mrs Beeton style, over a month ago and have been feeding them so much brandy they're probably about to get up and swagger off on a drunken expedition any day now. Other must-have foods are some traditional fruit-mince pies; some brandy custard; and pretty much anything else because – lets face it – you're going to spend Christmas eating, you might as well enjoy it.
Luxurious candles
Candles are both traditional, luxurious, and perfect for setting the mood. If you need to stock up, try Cire Trudon, the world's oldest producer of wax candles and one-time supplier to Marie Antoinette herself. Cire Trudon's candles come in hand-blown glass, an amazing range of scents, and are chemical free.
An iPod
This one pretty much goes without saying, but I'll say it anyway. No party is complete without music, and these days pretty much all you need is your iPod. My cherished 80GB classic has enough music on it to take you from civilised start-of-the-night jazz through to drunken 80s classics. On the fly playlists are the modern-day jukebox, use them to your heart's content.