A magazine subscription may seen a bit of a ho-hum gift, but there are times when it can be just right. Consider that getting a parcel once a month with a fantastic fashion magazine is actually quite a great thing – and many can appreciate the joy that comes with it.
So, without further ado, here are my top 5 picks on women's fashion magazines to buy subscriptions to as gifts.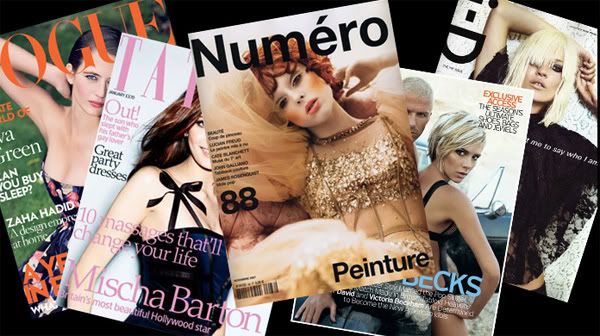 Vogue UK
I always find Vogue UK much fuller, glossier and more intelligent than it's US (and Australian) counterpart. Though the others would of course also make wonderful gifts, Vogue UK seems to me to be the top choice of the Vogue family. Grab it here
.
Tatler
Somewhat in a similar vein to Vogue UK, Tatler is the society girl's magazine. It's not there so much for the photoshoots as for the interesting and informative articles about British society girls and their latest trends and fancies. Pick up a subscription at Amazon.com
.
Numero
We just love watching all the fantastic shoots that come out of Numero. From Lily Donaldson in black and white to Kasia Struss in 'The Barn' to the gorgeous Coco Rocha cover shoot – which we've even got short-listed in our 2007 fashion awards. Get a subscription
.
W Magazine
This one's for the coffee-table book lovers. Big, bold and beautiful, W Magazine is one that's not so much for flipping through on the train as for pawing through at home over a glass of wine and some music. This year we've seen great shoots with Gweneth Paltrow, The Beckhams and Cate Blanchett, amoung others. Grab it here
.
i-D Magazine
One of our favourite shoots this year was Kate Moss in i-D looking totally hot in a platinum blond bob. For a less mainstream option, i-D rocks. Pick it up here
.
OK, so there are plenty more that are also great. But because I was limiting the list to five… I had to limit the list to five! Others that could just as easily have gotten on the list are POP, V Magazine, Frankie, Oyster and Russh in Australia, Harpers Bazaar and Wonderland.
If you're thinking more about calendars than magazines, why not check out the top fashionable calendars of 2008, or hit our Christmas gift guide for other great ideas.