Christmas doesn't have to be about spending heaps on luxurious gifts (hey I said doesn't have to be, it still can!) But if you want to give a gift that's personal and meaningful, there's plenty you can do. Here are 5 ideas for creating a personal gift on a shoestring.
Screen print a personalised message on a tee (or apron, or bag… whatever else you think suits them.) Basic equipment for doing this isn't too expensive and can be used over and over again.
Customise an article of clothing to suit their style. For example – grab a plain tee and add some detail such as vintage military buttons, badges or brooches, or ribbon or lace for a girl.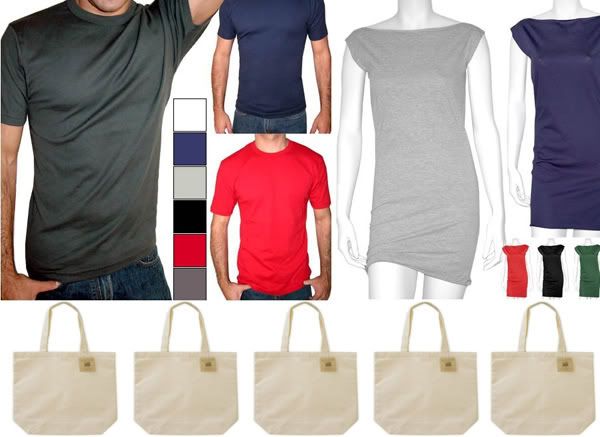 Customise this: Recycled Cotton Canvas Tote Bags
$8.99 each; American Apparel Unisex Tees
$9.95 each; and American Apparel T-shirt Dresses
$8.99 each, from Amazon.
Compile a CD with songs that remind you of them. Ok so it's a bit of a cheesy idea… just make sure you wrap it really nice so you don't look too cheap.
Dig around for something related to their family or local history. An old book about the history of the street they live in, a simple print of a ship their ancestors sailed on, a piece of jewellery just like the one their mother used to wear… something with sentimental value.
If they like vintage, get in early and pick up some vintage accessories on ebay at bargain prices. You'd be surprised at the plush materials and quality antiques you can find.
Most of all remember that whatever it is, showing that you put some effort and thought into it will be appreciated.
If you're not feeling creative hop over to our 2007 Christmas gift guide for other gift ideas that don't necessarily involve bargain hunting or a needle and thread.