When she's not too busy attacking them, Lily Allen knows how to work the cameras. There are the topless pictures, the oh-so-cute headbands, the stunningly risque sheer pieces, and the new hair styles. Today it seems that the British singer has managed to combine a few of these for a look sure to turn heads.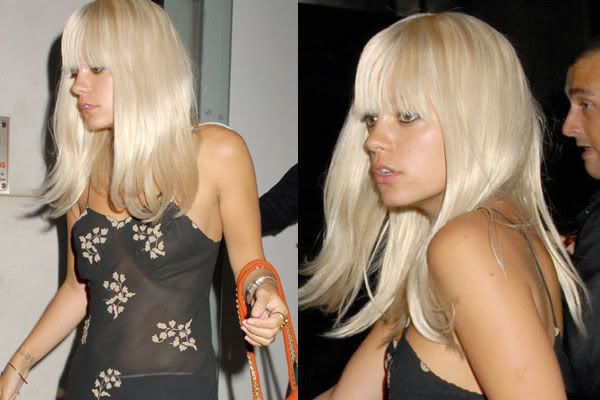 After indulging in a little bit of Japanese cuisine, Lily Allen stepped out of Nobu in London showing off both a new longer hair style complete with platinum blonde colouring and a blunt cut fringe.
As if the hair wasn't eye-catching enough, Allen mixed the new (wigged) hair style with a less than conspicuous bit of see-through clothing that almost threatened to make this post NSFW. But you'd have to really be looking.
And if you're that way inclined, or perhaps fancy a platinum blonde wig of your own, you can click the pictures below for more of Lily Allen's new (wigged) hairstyle.