If Todd Rosen could choose three words to describe the essence of Lipstick Bandits, those words would be "glamour, power, diamonds." True to that definition, the label specialises in tees and hoodies that scream rock-star glamour.
Todd is one of the owners of the label. He's quickly become aware of how the Internet is changing fashion, saying, "the internet lets me touch the world now." Thanks to fashion blogging, international markets such as England, Japan and Australia have picked up on the label.
We asked Todd to dish the dirt on what Lipstick Bandits is all about.
Tell us something we didn't know about you.
Lipstick Bandits is true "california" style, Todd Rosen and Jimi Lee were both raised in Hollywood and Beverly Hills California.
What is the inspiration behind your designs?
Growing up in Hollywood, I have been surrounded and influenced by so many different cultures. Music has been a big influence. Going to so many dfferent music concerts listening to so many different genres of music, such as The Clash, The Cure, The Strokes, Metallica, Guns N Roses, De Peche Mode, The White Stripes, NWA, Queens of The Stone Age, Led Zeplin. Fashion is such a huge part of all music, you can catagorize a style of clothing for all Music genres. I took inspirations from all genres and created Lipstick Bandits Clothing.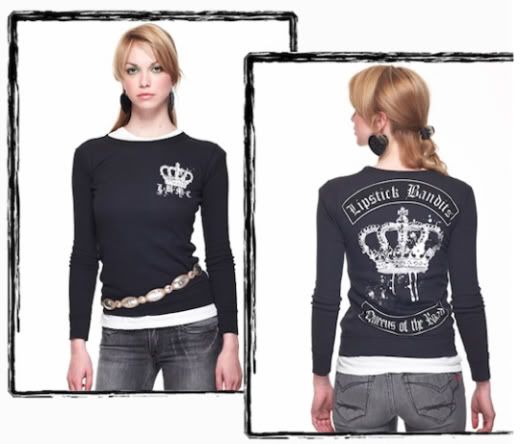 Your label wears it's Californian / Hollywood feel with pride. How does that translate for different markets such as London?
Hollywood/California is a symbol for where dreams are made. Every one has a dream even in London, and for me, it starts here in Hollywood, California.
Where can we buy your designs?
http://www.electricladyland.com/
http://www.planetfunk.com
http://www.shopkitson.com
miijo
15/145 Palm Meadows Drive,
Carrara, Qld 4211
Australia
http://www.miijo.com
Where to next?
Obtaining band merchandise licenses so we can put a touch of Lipstick Bandits in each design for Band T-shirts.
Visit http://www.lipstickbandits.com/ for more.