Last week it was Red Carpet Style Awards – this week we're chatting to Fashioniser and resident underwear expert, Danae from Knickers Blog.
What made you choose the topic of underwear for your blog?
Before I moved to Scotland, I knew nothing about underwear — I just bought ugly white bras from Wal-Mart. Once I moved, however, I got professionally fitted and found out I was an F-cup. I had no idea F-cups even existed, so I started looking online for more information about bra-fitting and what was available in my size. When I couldn't find anything, I decided to set up my own site.
Who makes the best lingerie, in your opinion?
Now that's a tough question! There are too many amazing labels for me to have an all-time favourite, but I can break them down by category: for larger-cup sizes, I swear by Miss Mandalay – the fit is excellent and the bras are colourful and different. For luxury basics, Eres and Huit are great at being really simple and really gorgeous. For something really bold and sexy, Lascivious is amazing as are Modern Courtesan, who are about to launch their first collection. And if you want something traditional and beautifully made, you can't go wrong with Aubade.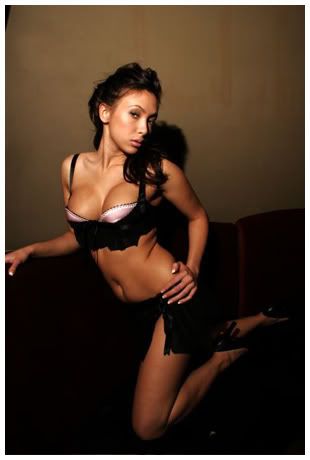 Lingerie by Lascivious
Who is your all-time favorite style icon?
Jackie O. I love that simple, refined look although it's the complete opposite of my own style (I couldn't look classy if I covered myself in diamonds).
What is the most valuable piece of style advice anyone has ever given you?
It's so simple, but never wear a white bra underneath a white shirt. You'd think I could have worked out that nude bras blend in beautifully under white shirts, but there you go.
3 things you're loving right now are:
My Arosa Queen Silver Soap imported from Japan (for real, totally worth it), my YSL Radiant Brush foundation, and my modal tee-shirts from Banana Republic.
3 things you're loathing right now are:
Britney, Lindsay, and Paris.
For more than you ever needed to know about lingerie, visit http://www.knickersblog.com.