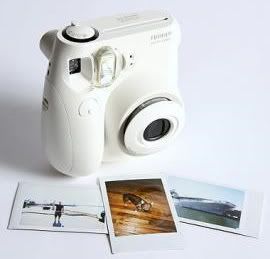 Last Feburary there was a sad, sad day. It was the day that Polaroid announced that they would no longer be making film for their instant-film cameras, and inside we all died a little. No longer would we be able shake it, shake it like a Polaroid picture. We all started to hoard film because we knew soon we would no longer be able to get any more. Little did we know we were wrong because this little guy was just around the corner.
This little guy is Fuji's Instax Mini, and right now I'm really tempted to make him part of my camera kit if only for some fun backstage shoots, or out and about with friends.
You can pick one up if you're in the States for around the $130 mark at Urban Outfitters, with photo's setting you back around $1 each. The camera itself comes in pink, blue, and white and produces prints that are about the size of a credit card.
If you like me, enjoy the instant gratification it's definitely worth picking up.