Stuck for ideas for Christmas? How about the gift that keeps on giving (for twelve months anyway). Magazines make a brilliant gift at Christmas time, mostly by virtue of the fact that they'll receive issues until next Christmas, and because you'll often find bonus gifts are included in the subscription offer. The better the fashion magazine, the better the offer. So if you're looking to give a magazine subscription to a man about town this Christmas, which titles should he really be reading?
if you're after a subscription for a lady in your life, read Tania's Top 5 fashion magazine gifts for girls (and with the amount of magazines she buys, she should be an expert!)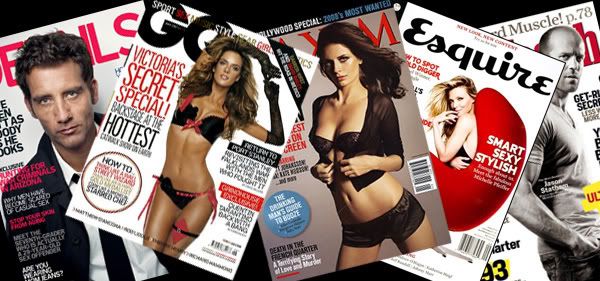 GQ (UK)
The original, and still the best. British GQ is a staple for the fashionable man about town. While it has its spin offs, (GQ Australia, GQ US) don't be fooled: they are but pale comparisons. I've personally bought every issue published for the past five years. Its mixture of intelligent discussion (politics is a forte), humours columnists, and fashion dissemination. Its style shrink column is particularly useful, and unlike Tatler (which we still love, and Tania recommends) reading it doesn't give the impression that you need to belong to a certain clique to understand what it's on about.
Buy a subscription for the guy who likes a variety of beautiful women, high brow, intelligent discussion, and high class fashion. You can subscribe on Amazon for $123.
Esquire (UK)
In many ways British Esquire has felt like GQ's poor cousin for some years now. But they've really been working hard on the title, and if you've read it over the years you'll know it shows.
Like British GQ, in British Esquire he'll find a mix of high brow, intelligent discussion. Also like British GQ, British Esquire pales American Esquire into insignificance. But Esquire has always felt like it has more street cred, like it's been around the block and has come back all the better for it.
Buy a subscription for the guy whose life is a mixture of high society and casual (it's the latter that Esquire beats GQ on). You can subscribe at Amazon for $90.
Men's Health
Men's Health is published in so many countries it'd take an entire blog post just to list them all Рbut rest assured they're all of a high standard. That's probably because they share so much content between each other.
Personal health and grooming have become such a major thing for men over the past decade and Men's Health has certainly capitalised on that. A combination of work out routines, fitness advice, health news, and nutrition discussion make Men's Health one of the leading magazines for the guy looking to take care of his body.
And that's who you should be buying it for. It's fashion advice is sometimes hit and miss, but if he's after looking hotter or living longer you can't go pass Men's Health. You can subscribe at Amazon for $25.
Details
I'Äôll be honest – I'Äôve never bought, nor read an issue of Details. But I went to some friends for advice on this column and many of them tipped their hat to the title. A polished magazine, it is to the casual / preppy male what British GQ is to the sloane ranger. Like 99% of men's magazines, it focuses on the usual combination of fashion, cars, and sex, but does so with a fair bit of elegance you mightn't be used to with a US men's magazine. That said, being a US magazine expect the adverts to be proportional to the content.
Buy it for the fashionable, preppy guy not quite British in his tastes. Subscribe at Amazon for $15.
Maxim
Some guy you know is still going to be into lad mags, and you may as well get them the 21st Century equivalent of the swinging sixties Playboy magazine — yes we really did read it for the articles. Maxim is in many ways a lad mag, but it'Äôs a lad mag that is trying at least. And by trying, we'Äôre noticing the fact that it'Äôs not aiming to have a trashy factor (we'Äôre looking at you FHM and Zoo!)
Buy Maxim for the younger guy, or the guy who still in his teens at heart. Subscribe at Amazon for $12.