Who will be dressing Daniel Craig's James Bond when he steps out for the second time in the forthcoming Quantum of Solace? As one of the most influential cinematic wardrobes, the issue of who has got the gig is one of the most topical issues in the fashion industry right now. What's clear is that Brioni has been dropped. What's not clear is who will replace them. First we were lead to believe it was Dunhill, but now it seems Tom Ford may be Bond's man.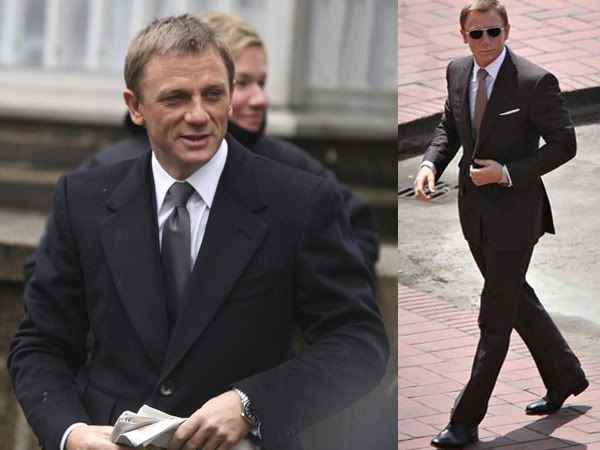 That's according to The Times. But who is it to be? Dunhill or Tom Ford? Looking at photos from Quantum of Solace it's easy to suggest either of them.
Slim cut suit, rather plain fabrics, and a traditional cut lend themselves to both design houses. The only thing that is certainly not Tom Ford is the pocket handkerchief, it's simply not flamboyant enough. But the way a man wears his handkerchief reveals little about the make of wardrobe.
There are also two other issues in trying to get to the bottom of this rumour;
Did The Times get their wires crossed? After all, Craig revealed during a shoot with US GQ that he owns a number of tailor made suits from Ford. Did they simply interpret this as meaning the suits are for the film?
And the other issue? Does any of this black and white ensemble (right) look like something that Tom Ford might design? With the fit of those pants, we hope not.
He's one of the most influential icons on men's fashion in the 20th and 21st centuries. So find out what James Bond and his girls are wearing and how in Fashionising.com's special 'James Bond and fashion' feature.