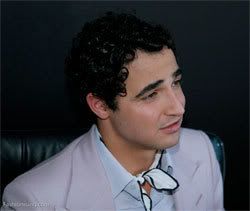 The first things that strike you about Zac Posen are three distinct qualities – he is both charming and cultured, everything that you might expect from similarly elegant designers such as Tom Ford. The third thing you'll note is just how young Zac is; fashion is an industry, after all, where the majority of heavy weights are nearing retirement.
Zac Posen. Cultured. Personable. Articulate. Young.
Thanksfully (for both of us I'm sure) when I sit down with Zac he's on a tight schedule. A whirlwind tour of Australia and the Zac Posen for Target range to promote leaves us with little time for chit chat and for the fluff questions. There's no "Are you enjoying Australia?" here today. In its place a frank discussion about the fashion industry and Zac's place in it.
Zac On His Brand
The first question is, perhaps, the most dangerous. Could the release of his normally high-end designs at Target damage his brand? The smile that crossed his face revealed that Zac hadn't been expecting a question so blunt. But his answer, so precise, showed that this had been carefully considered.
In short, a mid-range department-store collaboration "doesn't damage the brand." Anything but, he assures me. For him, the Zac Posen for Target venture was about "finding a market that we sell to but that doesn't have massive exposure." In a market (Australia) where he is little known, the exposure and publicity will only open new avenues, affording a previously little-known brand market share.
Zac On Luxury
Nor does Zac believe that a collaboration with Target would lose a crucial element of his work: luxury. And this is a point that he seems most passionate about. "True luxury is always in the make and fabrication," he tells me. While a one-off gown might achieve luxury through a rare fabric or intricate detailing, when translating luxury to the mass market it was very much for him "about the idea of the dress… about the essence."
And what is that essence? Not fashion for fashion's sake certainly. And whether it's a $299 dress or a priceless one-off piece, Zac believes that the any should always be "elevating the character of a woman" and there-in lies the luxury.
But with a clear difference between his Target range does he prefer: the attainable or the exquisite? A "true luxury customer offers more artistic challenges" he concedes.
Zac on Fashion Trends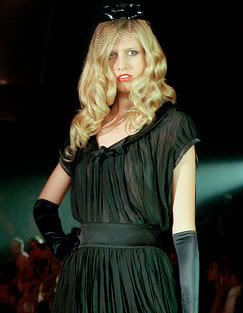 Given I spend a large part of my day researching emerging fashion trends for Fashionising.com, it should come as no surprise that I was eager to quiz Zac on the very subject. Afterall, perusing the range you'll note the inclusion of many themes which tie in with fashion trends in 2008, notably the 1930s revival and the sheer fashion trend (shown right).
The fact that his Zac Posen for Target range played to so many elements of the 1930s and 1940s merely finds Zac on trend, but he's not playing to them. Rather, it's an alignment of the stars. Or put another way, the 30s and 40s are a period of fashion history that Zac has always been passionate about; it just so happens that they're in fashion right now. To Zac the 30s and 40s were "the first time women took centre stage and re-became goddesses" which came in stark contrast to women effectively "hiding [their bodies,] like in the 1920s."
So what of fashion trends? Just because the Zac Posen for Target range doesn't play to them, is not to say that they don't find their way into Zac's other work.
Unsurprisingly, as a luxury designer, Zac doesn't follow them.
Like many of the fashion industry's greatest talents, Zac recognises that "we're living in the time of the individual." Whether it's from Zac Posen or Jean Jacques Picart, you'll often hear the same argument. I myself am a big proponent of it. Now, in the time of mass consumerism, people are returning to individualism. Ironic given this interview was centred around a mass-market range of luxury threads.
Zac on His Future
With Australia an emerging market for him, look out for Zac's return to the country's shores. Also look out for something new from the designer in 2008: a Zac Posen fragrance in collaboration with Selective Beauty.
The Zac Posen for Target range is out now in Target stores nationally. You can view photos of the full range in our Zac Posen for Target runway show-coverage.