We loved Rodarte's take on the thigh high boots trend, as did many; but drooling over them and actually getting your hands on a pair are two different things. So here is a simple DIY way to create your own take on the Rodarte style, courtesy of Caroline and adapted slightly by us.
Rodarte boots; DIY boots by Caroline
Grab yourself a pair of over the knee or thigh high boots.
Caroline suggests buying sheets of faux leather by the meter; but we would even say that genuine leather off-cuts are a great idea, and would add a touch of quality and authenticity.
Whether you choose faux or real, simply cut the leather in strips about 4cms wide and 150cms long.
You can fold the strips in half, or fold both edges under, to make them neater.
Then, wind one strip at a time around the boots. Caroline's method is simply to tie regular knots and then cover over each knot with the next strip; but if you want a more permanent solution you could also try gluing or stitching them on.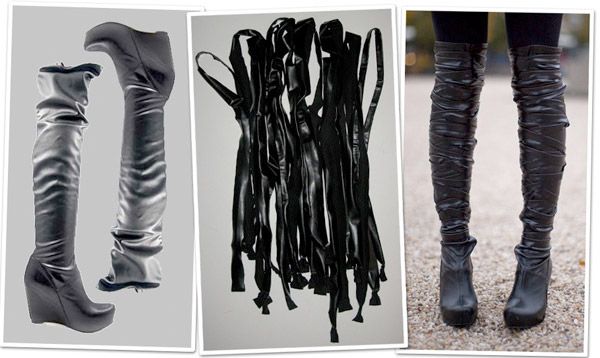 Voila!
For more over the knee boot inspiration, visit the gallery below.