Jessica Alba is pregnant… but will she be stylish?
OK so it seems like a fairly superficial question. So I'll start off by saying "congratulations" to Miss Alba on her apparent pregnancy. Being, though, that we've been watching the contrasting pregnancy fashions of the ever stylish Nicole Richie and the not so impressive Christina Aguilera with interest, I'll go back to my original question: will Jessica Alba be a Christina, or a Nicole?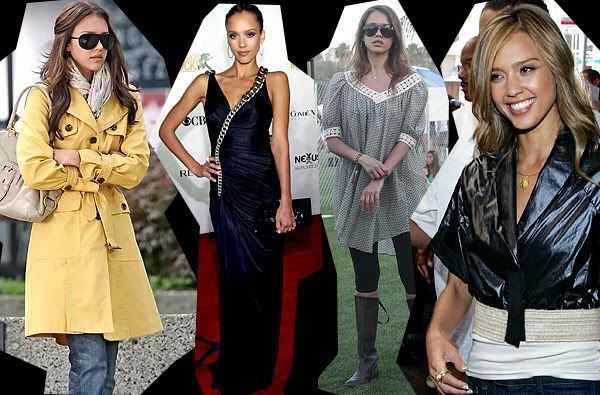 According to your voting on Fashionising.com's Trends, Jessica Alba is a regular for both hits and misses. Some examples -
You loved: Jessica's yellow trench-coat, her casual jeans and cardigan, and her sleek Versace dress.
You were not so impressed by: Jessica's striped dress and mary-janes, her oversized smock and this cropped metallic jacket.
The point is, Jessica is not as glamorous as Christina or as fashion-consious as Nicole – she's much more likely to be photographed at the shops in her tracksuit pants and flip-flops. My bet is that she'll be a more 'comfortable' pregnancy dresser. That said though, I think she'll still look amazing, because she has the body, and the motivation to be fit and healthy.