Proving that steps and seven inch heels don't mix, Melbourne Spring Fashion Week's Kaleidescape parade opened this evening with Sally Graham, the face of fashion week, not so much traversing the stairs but falling down them.
Such is the life of a model on a ridiculous square catwalk that many a person has been miffed about. But proving her professionalism Graham simply picked herself up, and got on with it having joined the esteemed company of many a professional model – yes Jessica Stam, we're looking at you.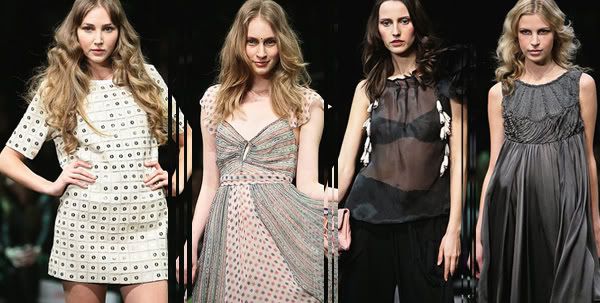 As for the night's designers:
Mad Cortes dabbled in the sheer and one-shoulder trends in a collection that mixed both simple and stand out looks.
Gorman left me, and many others, uninspired by presenting a a collection that, while certainly commercial, for the most part felt overly simplistic and failed to present the energy or angle normally associated with a fashion week.
Ginger and Smart opened with a collection that I seriously believed was channelling Pocahontas but soon upped the ante with some cool lashings of sheer, layers, and chain mail.
Fleur Wood screamed the foho trend, right down to sending their models out on the square-walk sans shoes. Who knew that models aren't versatile, each and everyone of them walking on tippy-toe as if wearing heels. What was most noticeable, however, was the fantastic movement that the construction of Fleur Wood's recent collection gave each piece.
Cohen et Sabine presented a relaxed Summer collection which fused mod and foho-inspired pieces with rock-chic looks and managed to remain sexy and elegant throughout.
Anna Thomas mixed rolled-up sleeves, a key look for guys in 2009, with a black-and-white, nautical themed opening which soon transformed into a far more eclectic collection.
As it opened with a spectacle, so too did Kaleidescape close with one as most every model hit the catwalk; all at once. No, it didn't feel anywhere near as ludicrous as last night's closing, but as the models walked throughout the Town Hall for a good ten minutes not only was it reminiscent of the closing scenes of 1999's The Thomas Crown Affair, it also left everyone completely miffed. The sheer confusion of so many models and so many outfits parading around, over and over again, left each of us scratching our collective heads.
Who thought that such a chaotic ensemble was such a good idea?
Probably the same person who envisaged a square catwalk as pushing the envelope. And it does. Just not successfully.