This is one outfit I think Lily Allen has really got right. A black wool Armand Basi dress with sheer panel; super-high YSL pumps; classic red Chanel bag, matching red lipstick; and black leather gloves to top it all off. The whole look is a long way from Lily's capsule for New Look when so many people were visiting Fashionising.com to read up on how to dress like Lily Allen. This new look of Lily's is far removed from her 'street' days, and is a great example of how the sheer trend can be both sexy and elegant.
The only questionable thing about it is where Lily was wearing it to.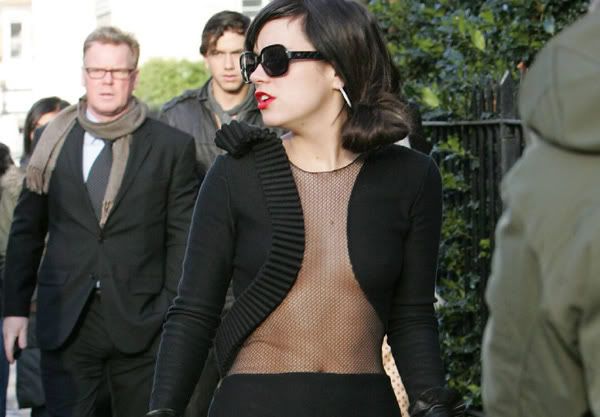 Lily was shopping at the PRADA store in London, and apparently also heading off to church no less. Such a see-through outfit looks like it belongs more at a glamorous evening affair, not a casual shopping / church trip. But in any case, I'm still giving Lily top marks for pulling off this polished look with such confidence.
For more photos of Lily Allen's daring daytime outfit, click on the gallery below.