Men's fashion for 2009 and 2010 is off to a hell of a start with the debut of the men's Autumn (Fall)/Winter 2009/2010 collections on the European catwalks. While they're reaffirming our look at 2009 fashion trends, they're also giving us a much desired look at 2010 fashion trends.
Naturally Fashionising.com will be bringing you the best of the men's 2009/2010 runways, and you can start right here with links to all the pictures we've found. Be sure to check back often, or subscribe to our fashion newsletter, as we'll frequently be updating this list with new pictures, videos, and analysis.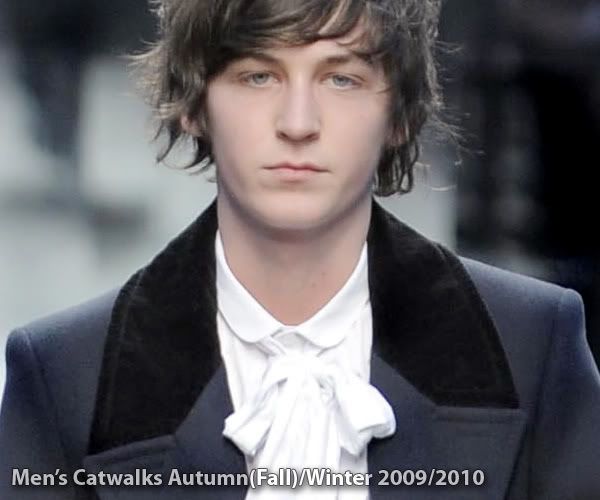 Click the links below to be taken to photographs from each designer's/label's Autumn(Fall)/Winter 2009/2010 runway show.
3.1 Phillip Lim Men's – Autumn(Fall)/Winter – 2009/2010 Men's Collection

Alessandro Dell'Acqua Men's Autumn(Fall)/Winter – 2009/2010 Collection
Antonio Azzuolo Autumn(Fall)/Winter – 2009/2010 Men's Collection

Bally Men's Autumn(Fall)/Winter – 2009/2010 Collection
Belstaff Men's Autumn(Fall)/Winter – 2009/2010 Collection
Bottega Veneta Men's Autumn(Fall)/Winter – 2009/2010 Collection
Brioni Men's Autumn(Fall)/Winter – 2009/2010 Collection
Burberry Prorsum Men's Autumn(Fall)/Winter – 2009/2010 Collection

C.P. Company Men's Autumn(Fall)/Winter – 2009/2010 Collection
Canali Men's Autumn(Fall)/Winter – 2009/2010 Collection
Costume National Homme Autumn(Fall)/Winter – 2009/2010 Collection

Damir Doma Men's Autumn(Fall)/Winter – 2009/2010 Collection
Diesel Black Gold – Autumn(Fall)/Winter – 2009/2010 Men's & Women's Collection
Dior Homme – Autumn(Fall)/Winter 2009 Angles & Triangles Accessories Collection
Dior Homme Autumn(Fall)/Winter – 2009/2010 Collection
Dirk Bikkembergs Men's Autumn(Fall)/Winter – 2009/2010 Collection
Dolce & Gabbana Men's Autumn(Fall)/Winter – 2009/2010 Collection
Domenico Vacca Men's – Autumn(Fall)/Winter – 2009/2010 Men's Collection
Dunhill Men's Autumn(Fall)/Winter – 2009/2010 Collection

Emporio Armani Men's Autumn(Fall)/Winter – 2009/2010 Collection
Etro Men's Autumn(Fall)/Winter – 2009/2010 Collection

G-Star Men's – Autumn(Fall)/Winter – 2009/2010 Men's Collection
Gareth Pugh Men's Autumn(Fall)/Winter – 2009/2010 Collection
Gianfranco Ferr?© Men's Autumn(Fall)/Winter – 2009/2010 Collection
Gilded Age – Autumn(Fall)/Winter – 2009/2010 Men's Collection
Gucci Men's Autumn(Fall)/Winter – 2009/2010 Collection

Jil Sander Men's Autumn(Fall)/Winter – 2009/2010 Collection
John Bartlett Autumn(Fall)/Winter – 2009/2010 Men's Collection
John Richmond Men's Autumn(Fall)/Winter – 2009/2010 Collection
John Varvatos Men's Autumn(Fall)/Winter – 2009/2010 Collection

Ksubi – Autumn(Fall)/Winter 2009/2010 Men's Collection

Lacoste Autumn(Fall)/Winter – 2009/2010 Men's/Women's Collection
Lanvin Men's Autumn(Fall)/Winter – 2009/2010 Collection
Les Hommes Men's Autumn(Fall)/Winter – 2009/2010 Collection

Marc by Marc Jacobs – Autumn(Fall)/Winter – 2009/2010 Men's & Women's Collection
Marni Men's Autumn(Fall)/Winter – 2009/2010 Collection
Missoni Men's Autumn(Fall)/Winter – 2009/2010 Collection
Moschino Men's Autumn(Fall)/Winter – 2009/2010 Collection

Neil Barrett Men's Autumn(Fall)/Winter – 2009/2010 Collection
NewYorkIndustrie Men's Autumn(Fall)/Winter – 2009/2010 Collection
Nicholas K – Autumn(Fall)/Winter – 2009/2010 Men's/Women's Collection

Oeltjenbruns Autumn(Fall)/Winter – 2009/2010 Men's Collection

Paul Smith Men's Autumn(Fall)/Winter – 2009/2010 Collection
Petar Petrov Men's Autumn(Fall)/Winter – 2009/2010 Collection
Prada Men's Autumn(Fall)/Winter – 2009/2010 Collection

Rag & Bone Men's – Autumn(Fall)/Winter – Men's 2009/2010 Collection
Richard Chai Men's – Autumn(Fall)/Winter – 2009/2010 Collection
Roberto Cavalli Men's Autumn(Fall)/Winter – 2009/2010 Collection

Salvatore Ferragamo Men's Autumn(Fall)/Winter – 2009/2010 Collection
Shipley & Halmos Men's Autumn(Fall)/Winter – 2009/2010 Men's Collection

Trovata – Autumn(Fall)/Winter – 2009/2010 Men's & Women's Collection
Trussardi 1911 Men's Autumn(Fall)/Winter – 2009/2010 Collection

Versace Men's Autumn(Fall)/Winter – 2009/2010 Collection
Vivienne Westwood Men's Autumn(Fall)/Winter – 2009/2010 Collection

Walter Van Beirendonck Men's Autumn(Fall)/Winter – 2009/2010 Collection
Wooyoungmi Men's Autumn(Fall)/Winter – 2009/2010 Collection

Y-3 – Autumn(Fall)/Winter – 2009/2010 Men's & Women's Collection