As a couple they're controversial. Alone she's one of the most popular celebrities to grace Fashionising.com. His name and the word 'fashion' have barely got a look in, bar for the fact that he wore Rayban Wayfarers back when I was a mere twinkle in my father's eye. So it comes as some surprise to me that I'm about to write about them both in the same post, shall henceforth go on to describe them as (almost) picture perfect, and only level one criticism. It almost floors me though to say that Tom Cruise has got one of 2009's fashion trends bang on.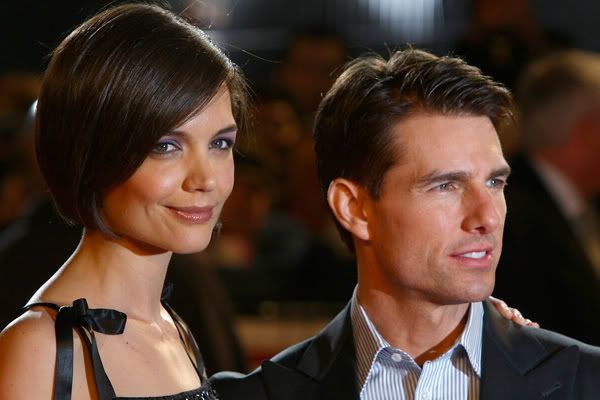 Such has been the raucous, almost rancour driven, coverage of Cruise's life in recent years that I thought we might never find cause to write about him. It was never personal, it just seemed it would take too much to reconcile between his personal (read: couch jumping) image and the world of fashion. But there he is, Tom Cruise on the red carpet for the premiere of Valkyrie in my sceptred isle wearing one of 2009's and 2010's key suit trends: the double breasted suit.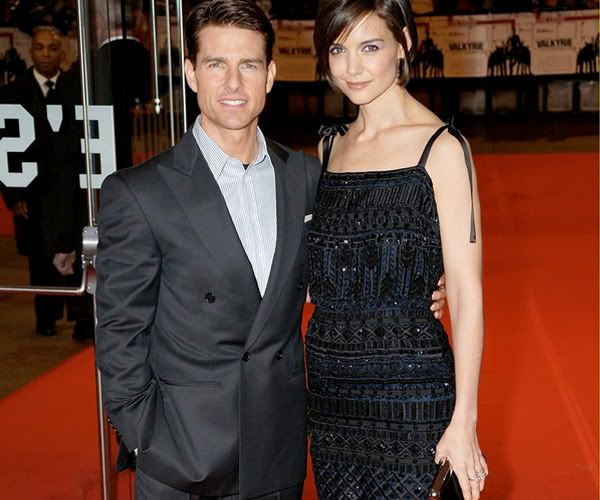 And it's not any double breasted suit; padded on the shoulders with a trim waist it gives him the perfect A shape one needs from the modern double breasted suit. Moreover, he's ventured into the realm of peaked lapels which are steadily making a comeback.
Now before I abrogate all sense of reason, after all his suit doesn't scream "Tom Ford sexy" and this isn't in the realm of the sublime, I shall level my criticism. Tom: why the need for the navy/black t-shirt underneath your shirt? Why detract from an otherwise perfectly crisp look?
And it's for that, perhaps also coupled with the fact that she's gorgeous, that Katie Holmes yet again outshines you on the red carpet.
And I'm sure most would agree that Holmes looks close to perfect in her black-and-navy Escada cocktail dress, which she paired with Givenchy lace-up heels.
You can see more pictures of Cruise and Holmes at the premiere of Valkyrie in London by clicking the thumbnails below and browsing through the gallery.