Looking for newer hair trends? Then check out Fashionising.com's 2011 hair trends guide. If you're after hair trends for 2008, read on! If you'd like to receive all the latest trend updates, subscribe to our free fashion newsletter.
2007 was such a big year for hair trends that it's not too hard to see why so many hair trends in 2008 might feel familiar. While 2007 introduced us to the pob, it'll be its cousin the bob that we'll be wearing in 2008. And it's much the same story with the fringe trend: it was already with us at the start of 2007, had lost popularity by mid-year, but was brought back for 2008 by hypermodel Kate Moss in a completely new way.
This year hair trends will range from boy-short crops to natural long tresses, with bobs in-between. We'll also be wearing various shapes of feminine, masculine, and elegant to name but a few, all taking their cues from the same eras as their parent clothing trends. So read on to find out the hair trends you'll be wearing in 2008.
Pick a Trend
Women's Hair Cut Trends 2008
It was only ever going to give way to a more traditional style: 2007's bob hairstyle has turned into a full blown trend in 2008, and it's perfect for the year.
Amazingly versatile, there are so many ways to wear the pob this year that you're going to be perfectly on trend but still 100% unique. If you're more traditional wear it as a natural accompaniment to the revival of 1920s, 1930s, and 1940s fashion trends (think Catherine Zeta Jones in Chicago). Or go the other end of the spectrum with something far more modern: a longer, blunt cut bob like the one sported by Hana Soukupova (below left). Or how about letting out your inner sex kitten with the rock-chic version we've been fantasising about on Freja Beha Erichsen (below right)? You can make it your own in plenty of other ways: fringed or fringeless, blonde or brunette, short at the back, or blunt cut all over.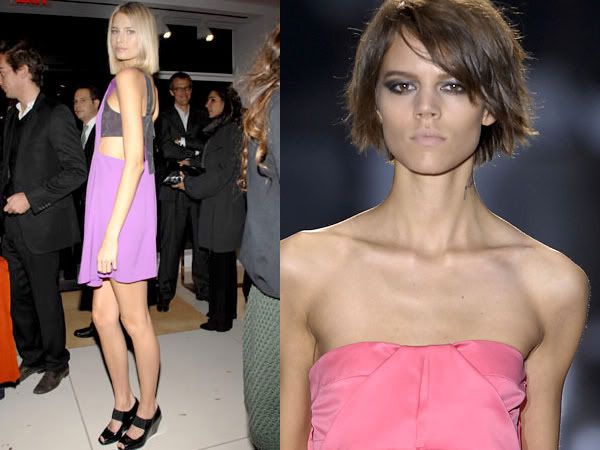 More on the bob trend

More of Hayden Panettiere's blonde bob

Agyness Deyn's super-short fringed blonde bob

Actress Hayden Panettiere gets a blonde bob hair style

Kate Moss with a platinum blonde bob

Victoria Beckham goes from pob to long bob

Bond girl Gemma Arterton wears the bob in Quantum of Solace

Kylie Minogue gets a fringed blonde bob
Sarah Michelle Gellar with a long bob

Singer Natalie Imbruglia gets a 1920s bob
Back To Top
The Fringe
We saw plenty of the fringe at the start of 2007, and then somewhere in the first half of the year it simply lost its buzz. Then, as the year drew to a close, it became a certain hair trend for 2008 when hypermodel Kate Moss got a fringe. What's best is that as a trend, you're going to have plenty of options to make it your own.
How many trends really have that many different styles? Few. But with the fringe hair trend in 2008 there are three main ways you can wear it;
The Blunt Fringe – the style that is the safest choice. Cut thick by bringing in hair from near either temple, the thick, blunt cut fringe remains the most popular way to wear this hair trend.
The Kate – that's what we've dubbed Kate Moss' fringe as she's wearing it in quite a unique way: fairly long. While having hair sitting in front of our eyes, almost below them, would annoy us mere mortals for Kate its a signature part of the look.
The Pixie – the fringe that takes the most confidence to pull off, ultra short and quite boyish the pixie fringe really sits as part of the 2008 cropped hair trend but is an element you can easily borrow.
But if the fringe hair trend died in 2007, won't it die again in 2008? Normally you'd think so, but with Kate Moss on hand to keep it insanely popular in the first half of 2008, and the next James Bond film, Quantum of Solace, to keep it popular in the second half, getting yourself a fringe is a certain way of staying on trend.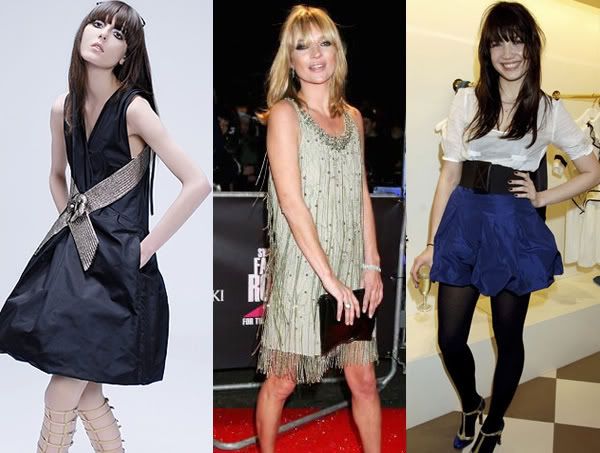 More on the fringe trend

The Kate Moss fringe and how to get it

Keira Knightley gets a blunt cut fringe

Heidi Klum with blonde fringe

Bond girl Olga Kurylenko wears the fringe in Quantum of Solace

Elle MacPherson with the fringe hair trend

Camilla Belle's bangs
Rachel Bilson's sex-kitten fringe
Back To Top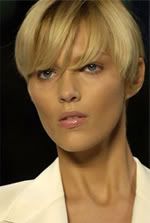 The Crop / Pixie Cut
Cropped hair styles tiptoed into existence at the end of 2007 without much fanfare. We first noticed the odd celebrity pixie cut on the likes of Natalie Portman and Michelle Williams, while later the likes of Elisha Cuthbert and Selma Blair wore crops with a longer fringe. Model Anja Rubik (pictured right) set herself apart in 2007 by ditching her long locks in favour of a boyish blonde crop. We're predicting that this will make it as a bigger trend in 2008.
For those fashionisers daring enough the crop offers a look that can scream independence and boldness, but it can also be translated to young and funky, or sharp and elegant depending on how it is worn. These short crops will be best matched with platinum or dirty blonde colours and plenty of attitude.
More on the cropped hair trend
Back To Top
Women's Hair Style Trends 2008
So now you know the hair cuts to watch out for in 2008, but what about hair styles?
The Sleek Side-part
One could argue that the side part never really goes out of style. But having just had a 70s revival of long flowing hair with centre parts, it's worth noting that sleek side parts were big on the runways for Spring / Summer 2008.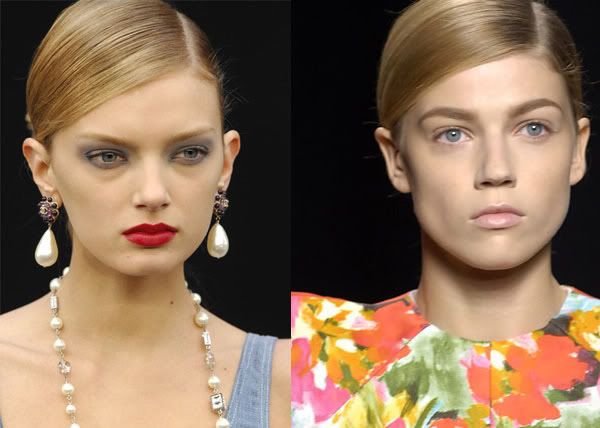 On the runway: Lily Donaldson for Chanel and Masha Novoselova for Balenciaga
Back To Top
Soft and Feminine
Again tied into the 1930s and 40s influences, soft feminine hairstyles will make it to 2008. Soft waves and tousled-up tresses in romantic styles will match with softer makeup (pastel colours) and delicate clothing.
Vlada at Viktor & Rolf and Solange at Valentino
More on the classic hair trends

Maggie Gyllenhaal's classic curls at the Dark Knight premiere
Back To Top
Masculine
On the other extreme to the super-soft and feminine hairdos, masculine styles also hit the runways as as forerunner to 2008. Agyness Deyn's trademark boyish crop was the perfect playground for creating masculine styles, and Yves Saint Laurent slicked the hair of their models back into 50s rockabilly men's dos. We're not expecting this to be too mainstream, but to be picked up by the more alternative types on the street.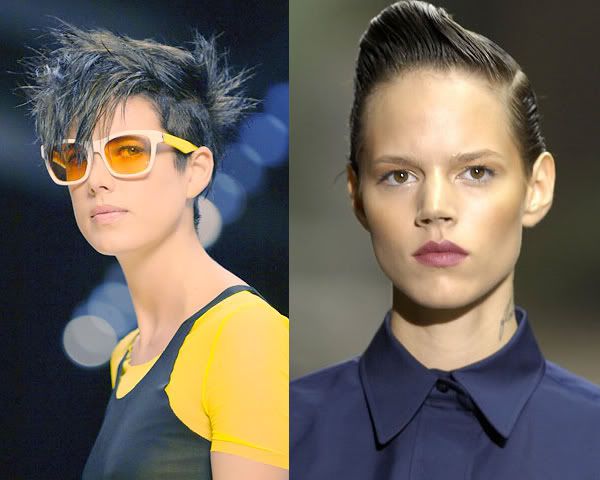 Agyness Deyn and Freja Beha Erichsen on the runway
Back To Top
Men's & Women's Hair Color Trends 2008
Picking an 'on trend' colour is never easy – it's not as if new colours are being invented, and mixing colours hasn't been popular for ages, and it's doubtful whether it ever even looked good. So Fashionising.com has studied what's being worn by celebrities, on the catwalk, and on the street, to come up with a list of the colours you should be sporting in 2008.
Dirty Blonde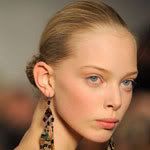 It's time to get down and dirty, because dirty blondes have even more fun. Okay, that was a terrible pun. But 2008 is the time to throw out average blonde, and look to more extremes. While blonde with dark roots seemed popular at the beginning of 2007, an overly more natural look is the safe choice of 2008.
What's best is that it really is the transeasonal colour for 2008/2009. It hasn't yet hit the street in a massive way (straw blonde is still out there in force sadly), but you'll find it in both the Spring-Summer and Fall(Autumn)-Winter runway collections, and we've seen it work particularly well with the soft and feminine hair style trend as seen on Tommy Hilfiger's Fall-Winter 2008/2009 catwalk on the likes of Caroline Trentini and Jessica Stam.
Platinum Blonde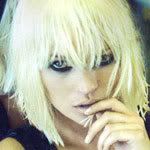 If you're looking for a fashion trend, turn to hypermodel Kate Moss. She made the fringe a hair trend for 2008, and she's doing the same with platinum blonde. Moss first showed off her platinum blonde look, paired with a bob, in November 2007's issue of i-D magazine and we knew it would be an instant hit.
Much like the dirty blonde hair colour trend (above), platinum blonde is another way to sex up blonde hair for 2008. But it differs in its appropriateness for the seasons: while you'll be able to wear it all year round, it really is best suited to Spring-Summer 2008.
Auburn, Not Red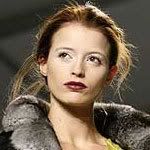 Red hair is a staple for so many people, but while fiery red has been popular in recent times it's been seldom seem out in the wild. Instead we've noticed a massive increase in the popularity of auburn. You can also turn to burgundy and maroon, but the real key here is to pick an hair colour that mixes a red hair colour and brown with a natural finish.
Auburn will be best for the Fall (Autumn) – Winter 2008/2009 season, hence it's massive popularity on the Fall-Winter catwalks, particularly Chris Han's.
Blonde for Men
Not since the days of the wig as a fashionable element of Europe's royal courts have there truly been hair colour trends for men. But this didn't stop us seeking one out. Fashionising.com turned to celebrity hair stylist, and inventor of the pob, Ben Cooke for his tips, and one came back: obvious blonde. We use the term obvious, because you shouldn't be aiming at a white, or platinum blonde but it should be close. The real trick for guys, Ben told us, should be to avoid a straw or dirty blonde coloured look and aim for something lighter.
Back To Top