Looking for something newer? Then be sure to read our dedicated guide to all the clothes, accessories, hair styles and accessories that are a part of Autumn / Fall 2010's fashion trends. Click the link for more.
As the world slowly pulls itself out of an economic depression, the Fall 2009 (Autumn 2009) season will largely define what 2010 fashion trends will look like. From over the knee boots to capes and cloaks, our fashion trends guide for the colder months of 2009 will help to keep your wardrobe sorted, and your looks on the cutting edge.
To keep up with the latest fashion trends for 2009 and beyond, be sure to sign up to our free fashion newsletter or subscribe to our RSS feed.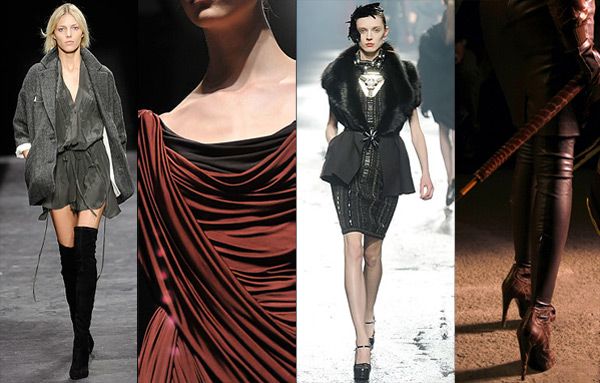 Fall 2009 Clothing Trends: Key Looks

Over-the-knee boots are the must-have item for Fall 2009; but those daring enough will find the tops of their boots creeping up even higher with thigh-high boots also making it mainstream. From elegant suedes to darkly futuristic wound-and-bound leathers, the options are many and various. Click to read about the thigh high boots and over-the-knee boots fashion trend.

It's been quite some time since the cape has been a major fashion staple. In Autumn (Fall) 2009 the cape, in it's various forms, will make it to major trend status as many big names of the fashion design world create their own unique revivals. From cropped mini capelets to long cloaks and full capes, click to read about the cape and cloaks trend.

Perhaps you're wondering what's so new about leather, given the leather jacket has been such a wardrobe staple for the past few years? Well, the leather trend is extending far beyond just jackets and into pretty much every other type of clothing. You name it, we'll be wearing it in leather in this colder months. Leather shorts, leather dresses, leather leggings… and more. Click to read about the leather fashion trend.

Dandy elements re-enter women's fashion for the coming cold seasons. Think Beau Brummell-esque looks; bow blouses, ruffles, jodhpurs, tailored waistcoats, brooches and fobs. Menswear is feminised for sexy yet masculine looks, and Regency styling is key. Click to read more about the female dandy trend.

Texture plays a big part in Winter clothing in 2009/2010, with the chunkiest of chunky knits keeping us both warm and fabulous. Chunky doesn't have to equal dowdy though – open-weave details are a must-have showing a peep of skin. Click to read about the chunky knit trend.

Our wartime female counterparts would never have imagined this day; where laddered stockings are not only acceptable, but fashionable. The ripped stocking trend is a close cousin of the ripped denim trend, a step towards a new era of neo-Grunge. Click to read more on the ripped tights and ripped stockings fashion trend.
In Spring/ Summer fashion tends to get a little more revealing; we blame it on the heat, and one's desire to show off. So in 2009 turn to the see-through clothing fashion trend to keep you cool, yet sexy. Autumn 2009's sheer pieces are a mixture of the soft and feminine, to the opposite extremes of the hardcore sex-kitten. Click to read more on see-through clothing.

From single-shouldered dresses to tops and bikinis, asymmetric shoulder-lines have made a huge return in 2009. Showing off one-shoulder in a dress can be subtly sexy and interesting on the eye, and the possibilities for how to wear it are numerous. Click here to read more on the one-shouldered fashion trend.
A close cousin of the bohemian luxe trend, the military jacket strikes back in 2009 as a winter wardrobe staple. Whether feminised, rocked up or worn with sexy androgyny, it's a winner. Click to read more on the military fashion trend.

Just when you thought they would never return… ripped jeans are back. Starting in 2008 with a horde of sexed-up editorial shoots and celebrity sightings, those torn denim shorts and shredded jeans are hitting the streets. Ripped denim in 2009 is certainly sexy and revealing – possibly more than ever. Click here to read more on the 2009 take on ripped denim.

Fashion colour trend analysis is a major influence in how many a designer approaches their new season collections, and while we've already seen all the catwalks from the major labels smaller clothes labels will still be looking for inspiration. And so will many of us. Pantone have made that easy with the release of their 2009 colour trends for Fall/Autumn guide. Click to find out the colours they're tipping you'll be wearing.
Fall 2009 Fashion Trends To Avoid

While we weren't kind on the douche-bag neck 2009/2010 is the first seaon we'll be running an 'avoid this trend' section for; and with good cause. You see there's a lot of designers and celebrities trying to bring back history's greatest fashion crime: double denim. Click to read our take on the pitfalls of the trend and the risks it poses.
Hair Trends
To describe this as a hair trend report is an understatement. With every key hair cut, hairstyle, and hair colour trend for 2010 described and photographed, this is the one article you must read to stay in fashion in 2010. Read about women's 2010 hair trends.
Autumn (Fall) 2009 Runway Pictures