The line between the office shoe and the fetish heel has become increasingly blurred; while the popularity of the ubiquitous Herve Leger bandage dress has simultaneously become widespread, meaning the super-short and super-tight is more commonplace than ever. The taboo, in many ways, is not so taboo anymore. Fashion has pushed the envelope and perusing the Spring/Summer 2009 runways, it's not hard to spot the bondage and fetish inspirations behind many of the clothes; making this yet another of 2009's fashion trends.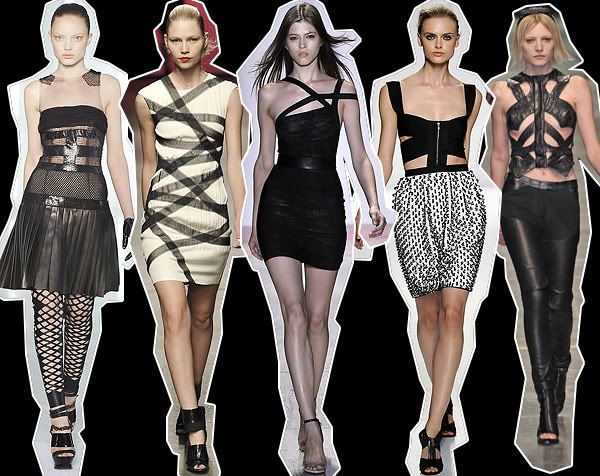 The bondage trend at Rodarte, Thakoon, Herve Leger, Narciso Rodriguez, and Givenchy.
Who designed it
More feminine than last year's cyber-punk trend, the 2009 bondage trend is sexy yet refined. Narciso Rodriguez, whose very Herve Leger-esque collection was inspired by "whips, chains and electrical tape", summed up the trend quite well as "taking something agressive and turning it into something peaceful… and creating beauty." Givenchy's Spring/Summer 2009 collection also took an unpredictable turn towards cutaway pieces in tight black leather, and Thakoon's criss-crossing black lines gave the impression of being taped and bound.
Who's wearing it
But what about off the catwalk? Singer Rihanna is the icon-du-jour for all things fetish, in particular her studded and spiked ensemble for the American Music Awards; while Victoria Beckham has taken the look from stage to street by way of her Christian Louboutin for Rodarte spiked heels. Expect to see more of this trend in 2009.
How to wear it in 2009
Rihanna's outfits, though daring, are not be the most practical examples of how to incorporate this trend into your wardrobe. Instead, look to mix in on-trend accessories like super high spike-studded heels or studded belts – these can give a fetish edge to pretty much any outfit.
For clothing, look for straps, exposed zips, chains, bandage and body con pieces, and leathers. The defining feature of the trend right now is that it should be feminine; avoid looking like a complete dominatrix by bringing in elements of softness and contrasting hard edges with delicate details.
Stay ahead of the fashion, hair and beauty trends in 2009 with Fashionising.com'Äôs constantly updated Fashion Trends 2009 guide. You'll find out the latest on 2009 hair trends, women's Spring/Summer 2009 trends, and more!