If there's anything that can win my heart quicker than a hot chocolate on a Winter's night, its an accessory inspired by a cute furry animal. So when Louis Vuitton sent their interpretation of bunny ear headbands down the runway, I was captivated. Unsurprisingly, the humble headband is in comeback mode for 2009 and 2010; but don't go reaching for your girl-next-door Alice band just yet. This is a specific micro-trend that marries the sexiness of a vintage playboy bunny with the elegance of high fashion. Read on for more on the trend and how to wear it.
Morgane Dubled in Jalouse, September 2009
What is it?
A revival of headbands that are cute and charming – think bunny ears, Mickey Mouse ears, cat ears, or other themes that are quirky and cool, and even a little eccentric. If you want a less out-there alternative, try bows or feathers. This is very much happening right now, so expect at the tail end of 2009, though odds are it will develop and morph into other variations and sit amongst 2010 fashion trends.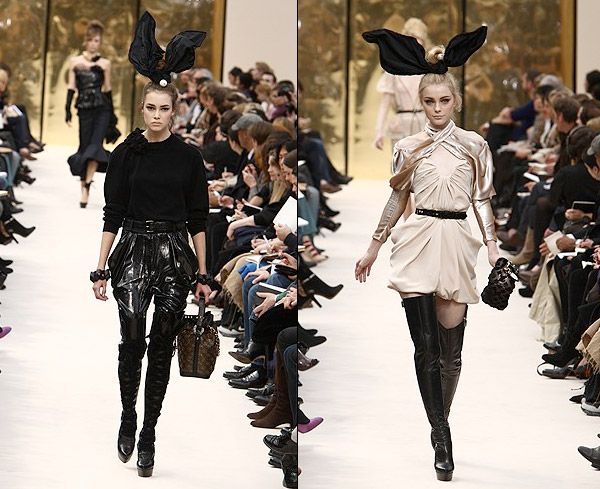 Louis Vuitton Autumn(Fall)/Winter 2009/2010
How to wear it
Do: go for tousled bedhair, a simple up-do, or 60's sex-kitten voluminous locks; be fashion-forwards, daring, and confident; have fun with it.
Don't: spoil it by wearing cheap costume props. The appeal is in the luxury. This doesn't necessarily mean spending bucketloads, just choosing quality materials and well-crafted accessories.
Do: wear it for a night out, day at the races, and any fun or frivolous activity. A big set of bunny ears is probably not so great for the office.
Don't: wear it with outfits that are too cutesy or girly; it's a fine balance between smoldering sexiness and girly innocence that makes this trend so workable.
Who's designing it
Louis Vuitton, as mentioned above, have garnered plenty of attention with their take. But before Marc Jacobs got rabbity for LV, Maison Michel had lace bunny and cat ear headbands in his Fall 2009 collection. There were also bow hats on Moschino Cheap & Chic's Autumn(Fall)/Winter 2009 runway that were reminiscent of Mickey-Mouse ears.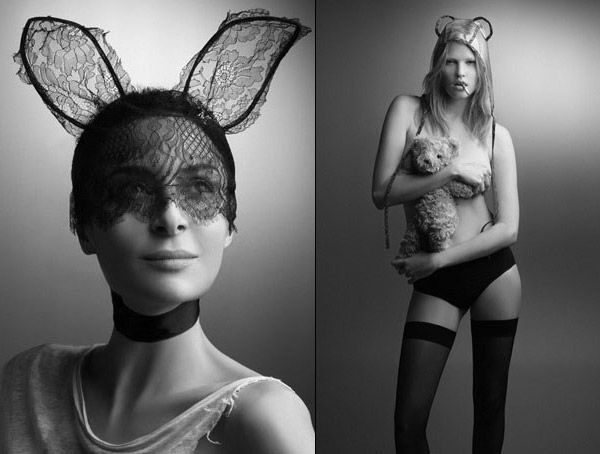 Maison Michel Autumn(Fall)/Winter 2009
Where its been seen