While colour is often missing from the palette of fashion trends in the colder months, the same cannot be said for texture. As with the colder seasons of yesteryear, texture in the form of chunky knits will be a prevalent feature of Autumn 2009 / Fall 2009. However, as the world puts the economic down turn behind it, several fashion houses are banking on fashioniers being interested in taking their chunky knits to the level of an extreme sport: introducing super chunky knits.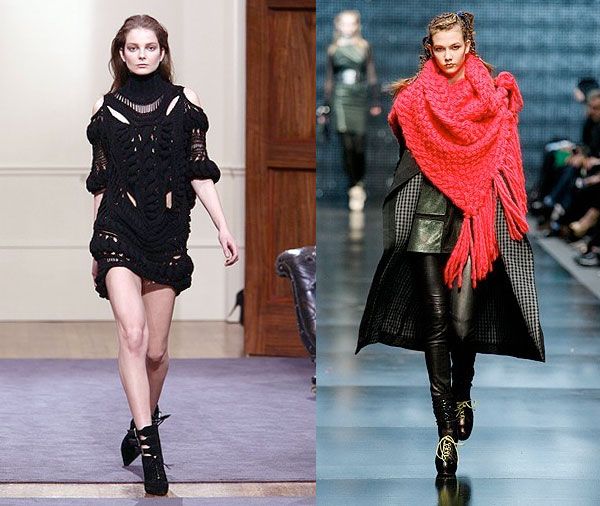 There are several ways to wear chunky knits this season. Easiest, of course, is wearing the look as an accessory. Topshop Unique Autumn (Fall) / Winter 2009/2010 certainly took that to be the case, sending a knit scarf down the catwalk that was so extreme it might even look out of place on a couture catwalk. Made no less eye catching by its use of an unseasonal blue, those looking for something extreme that doesn't verge on the ridiculous might instead turn to a chunky knit jumper.
The sweater / jumper look again featured on TopShop's catwalk, and while extreme it did so in an interpretation of red better suited to a Winter wardrobe, though the oversized jumper dress from Missoni was more to our taste.
Those looking for an infusion of sex, however, can't go past open-weave knits, such as Julien MacDonald's Autumn (Fall) / Winter 2009 / 2010 chunky knit dress offering. Again an extreme interpretation of the look, while it certainly features a mass of knitting perfect for the look it is the Winter interpretation of the cutaway fashion trend that makes this dress a must-have piece for a woman's Autumn (Fall) 2009 wardrobe.
Trend Updates
For some chunky knit fashion trend inspiration be sure to click on the pictures below and peruse some of the looks from the Autumn (Fall) / Winter 2009 / 2010 catwalks.