This will probably sound weird, but I've always been a sucker for movies and books that focus on bleak, dystopian futures where the boundaries of humanity are blurred, and the earth is on the edge of chaos and destruction. I thought perhaps there was something slightly wrong there, but turns out I'm not the only one after all. Cyberpunk influences have been infiltrating designer collections; even those from who you'd expect nothing less than dainty refinement (we're looking at you Christopher Bailey).

Wondergirl shoot; outfit by Jessie Hill; Chloe Boots; Sean Young in Blade Runner.
So what is Cyberpunk?
Without going into detail overload on specific subcultures and their creeds, it's a science fiction genre that's dark, grim and technology-focused. Just imagine some cyborg in a dark underground world, a few decades in the future, with a black trench-coat and a machine gun for an arm and you've pretty much got the idea.
Over the past few seasons designers have been working in a bit of Cyberpunk to their designs. Here in Australia we noted Jessie Hill's Broken Windows collection as having the Cyberpunk feel. Meanwhile, PVC – particularly for leggings – has actually become quite popular as a fashion trend (special thanks have to go to Kate Moss and her Glastonbury outfit for that one.)
We weren't really sure how much further the trend would go, but then we spotted the 'Wondergirl' photoshoot for September's French Numero: Cyberpunk outfits meet perfectly Femme Fatale hair, to striking effect. Seems it's not over yet.
Who Has Been Wearing It?
The Influences: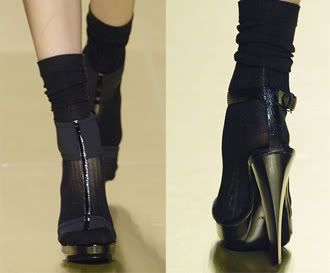 Film Noir
Japanese Anime – Ghost in the Shell, Akira
Riddley Scott's Blade Runner
Fritz Lang's Metropolis
Dystopian science fiction novels
Genre-based roleplaying computer games
The Elements:
Latex and PVC leggings
Chloe's A/W07 chunky goth boots
Burberry's studded leather accessories and patent heels (pictured)
Patent or metal waist-cinching belts
Dark, heavy eye-makeup
Androgyny
Trend Status
Elements can be mixed into everyday wear, creating a definite edge. As a long term trend, it's more likely to survive underground than on the surface, but for the meantime fashion magazines are using the opportunity to come out with dark, edgy shoots, and back-alley cigarette-smoking fashionistas are rejoicing in the bold, sexy looks that PVC and patent pumps bring forth.