Looking for something more up to date? Then head across to our 2011 fashion trends for all the latest men's and women's trends.
Bookmark this page, or subscribe to our fashion newsletter, fashion podcast or RSS feed, to keep up to date with all of the latest fashion trends! Once you've done that read on to find out what you might be wearing throughout 2009.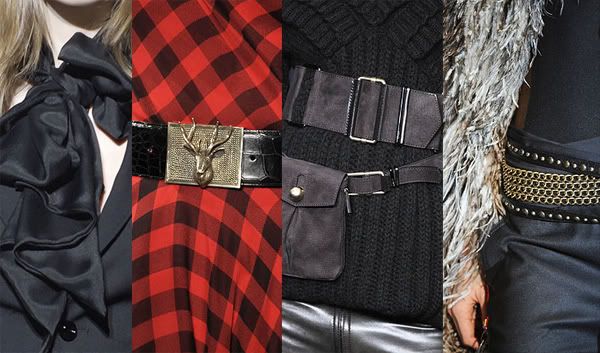 Women's 2009 Fashion Trends

Look forwards to the end of the year and 2010 fashion trends and peruse fashion trends from our favourite seasons: Autumn(Fall)/Winter. Giving you a run down of all the extra pieces you'll be wearing in amongst all those extra layers, our fashion trend guide for Autumn(Fall)/Winter will leave you with a much more refined look. Click to read about Women's Autumn (Fall)/Winter 2009/2010 fashion trends.

Keep up to date with what you'll be wearing for Spring/Summer 2009. Some of it will be single-shouldered, some sheer, but what of bikinis, jeans, and colours? Read our constantly updated Women's Spring/Summer 2009 fashion trends guide to find out.
Back To Top
2009 Men's Fashion Trends

Picking a new suit is never an easy task; there's the cut, the fabric and the quality all to worry about. Though men's fashion trends change at a slow pace, and suits slowest of all, 2009 will see a major move away from the monochromatic skinny-boy suit to something a lot more masculine and adventurous. But don't worry, the slim cuts aren't going anywhere. Click to read more on men's suits in 2009 including our tips on buying the perfect suit.

A military-inspired jacket is a must-have for every fashionable male in 2009. From the more daring swashbuckling outfits from Galliano to the futuristic gothic combat gear of Gareth Pugh, there were many examples of military styling on the Autumn (Fall)/Winter 2009-2010 runways. Our top picks: classic naval and military jackets with a hint of Sgt. Pepper. Read more about the men's military trend.

Accessories for men are few and far between, but with the gradual revitalisation of men's fashion, coupled with a greater proportion of men willing to express their individuality without fear of sexuality orientated labelling, the men's brooches have emerged as a new category for men looking for that extra something. Read the article for Daniel P Dykes' exploration of the styles and influences of the latest hoorah in men's accessories.

It's one of the key cuts across men's clothing in 2009, and yet the Deep-V Neck has Daniel distinctly worried. Will deep v-neck cardigans be its saving grace, or will men be wearing it in completely the wrong way and throw 2009's men's fashion to the wall? Click here to read more on the deep v-neck trend.

Swathed in layers of black fabric and leather, they may not be aiming for stealth but they sure are channelling the ninja. Bubbling up from the underground comes this growing menswear trend. Click here to read more on the goth ninja trend of 2009.

The death of the dress code factors in on the new wave of tuxedo dressing for men. Pairing dinner and tuxedo jackets with more casual elements is not unusual for 2008, though if you're looking to pick one up a timeless cut will last forever. Click here to read more on men's tuxedos and dinner jackets, and how to wear them.
Back To Top
2009 Hair Style Trends

Covering Autumn (Fall)/Winter 2009 and Spring/Summer 2009 hair trends for women, Fashionising.com's women's 2009 hair trends guide will keep you looking hot and your locks perfect throughout the year. Also be sure not to miss our 2010 hair trends guide.


A lot of men's fashion trends in 2009 are about the classics revived, and so too is it for men's hair. Whether it's the Regency revival or the American slick back the classic origins of all of men's hair trends in 2009 cannot be denied. Read on to find out more about men's hair trends, as we keep you up to date throughout the year!
Back To Top
Shoe Trends

Solid heels or stilettos? Worse still, hooker heels? Don't count on the last one! Shoe trends in Winter 2009 might bring plenty of variations, but none of them will stoop so low. Read on to find out about the styles you will be wearing including lace-ups, over-the-knee boots, and mary-janes. Click here to read more on footwear and shoe trends in Autumn (Fall)/Winter 2008-2009.

There no excuse for looking drab in Spring/Summer 2009. The season's shoe trends are geared towards statement pieces and creative freedom, from exotic influences to architectural elements. Read the full article for an insight into the trends to come, from the ongoing popularity of the gladiator sandal, to the new arrival of the high-fashion fetish shoe. Click here to read more on footwear and shoe trends in Spring/Summer 2009.
Back To Top
2009 Catwalks Pictures
Back To Top
Global Influences
For the most part, fashion trends reflect what is happening in the wider world; nothing greater highlights this than the effect the economic bubbles of the 1920s and 1990s had upon fashion. In the 2000s we're faced with much the same issues with a new stand out topic: climate change. What effect will such issues have upon fashion? Read on to find out.

It is perhaps the one issue getting more headlines than climate-change: the economy. How will the economic forecasts of 2008, which all point to a recession and worst and a down-turn at best, effect the clothes we're wearing in 2009? We pose the question in our look at fashion in 2009 and 2010, and the economy.

If you believe what you read in the papers, climate change / global warming is the biggest issue facing mankind. Though the debate itself fails to reach a conclusion, that hasn't stopped the fashion industry from using it as an influence for their 2009 product. But did you ever think you might be carrying around solar powered bags? We still don't.
Back To Top