When writing about the latest fashion trends we're constantly looking at the clothing, hair trends and make-up trends, but sometimes it's easy to forget about a girl's most important accessory: her shoes. So here it is, your shoe guide to Autumn (Fall)/Winter 2008/2009 in the form of our 2008/2009 shoe trends bible!
Square toes, crocodile skin, triple-buckles, and bohemian fringing are just some of the things you might not have been expecting to come back into fashion so soon, and yet here they are. Read on to find out all of the Autumn / Winter 2008 – 2009 shoe and boot trends.
Want to keep up with the latest fashion trends? Then subscribe to our fashion newsletter. You can also read up on Spring/Summer 2009 shoe trends by following that link.
Heel shapes and styles
Stilettos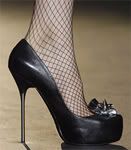 What: Yes, stilettos are back. Well, it's not that they ever went anywhere – but they're once again dominating the runways, and that is to say that the chunky-heeled revolution is (for the most part) over. One thing we are seeing though is a hybrid of platform and stiletto: a hidden platform in the front part of the shoe, with a super-tall stiletto heel at the back (as per DSquared2, pictured right).
Seen on: the runways of Balenciaga, Chado Ralph Rucci, Yves Saint Laurent, and DSquared2 to name a few.
Verdict: Stilettos are streamlined, elegant, and sexy. The higher they are, the hotter they look, but of course they don't offer much support for one's feet. Not that ergonomics is really on anyone's mind when they're looking at designer shoes.
Thick, chunky heels
What: Platforms and thick heels have dominated the past few seasons; and a number of the major design houses have seen fit to carry them on for Autumn / Winter 2008.
Seen on: the runways of Christian Dior, Dolce & Gabbana, Marni, Chanel.
Verdict: All those sturdy heels we've just invested in shouldn't go to waste too soon – despite the return of the more graceful stiletto. The definite advantage of shoes with a thick heel is that they're better to walk in; so make the most while you can.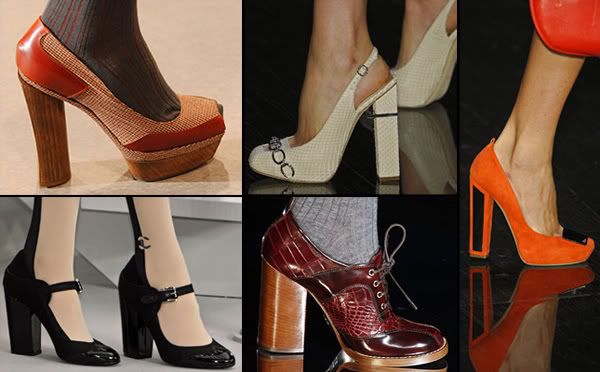 Tapered heels
What: Heels that start thick at the top and taper down, often with a curve, into a stiletto-esque point at the bottom.
Seen on: the likes of Burberry Prorsum, 3.1 Phillip Lim, and Zac Posen.
Verdict: They're a sexy, interesting and modern style which can really spice up an outfit. Not as much a classic shape, so buy them if you intend to get a lot of wear out of them over the next few seasons.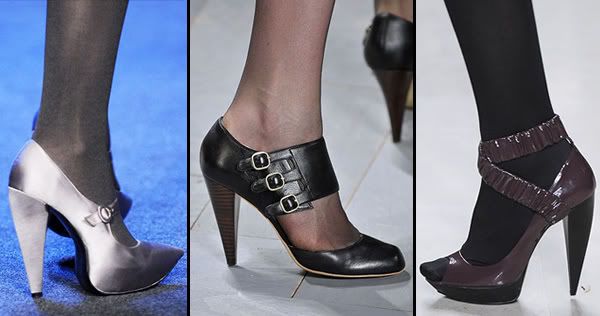 Toe shapes
Squared-off toes
What: It's been a while since square toed shoes have been popular… and it's now their time to return. Before we all start having nightmares of those awful clunky dramatically-square shoes that were cool way back when, take note on the new squared-off shape. It's a tapered in toe with a short blunt nose – rather than a fully squared toe.
Seen on: the runways of Calvin Klein, Marni, Christian Dior, Prada.
Verdict: A nice, modern alternative to the lady-like round-toe; edgy, but not as harsh as a sharp point. A subtle squared-off toe is a great option in 2008.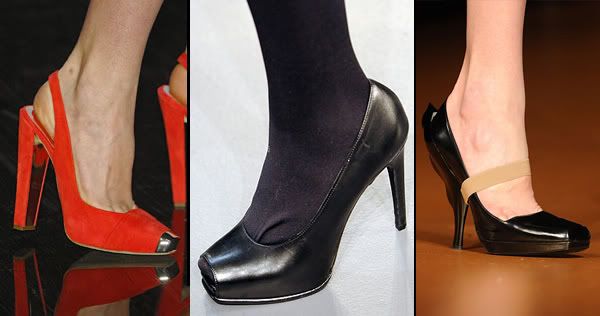 Pointed Toe

What: It was only in recent memory that razor-sharp pointy toes were in. And yet, here they are again.
Seen on: Balenciaga leading the way with their super-sharp points; Chado Ralph Rucci, Roberto Cavalli and Alessandro Dell'Aqua as other notables.
Verdict: It feels a bit soon, but with stilettos back in the pointed toe was never going to be far away. For those not game, round-toes are still an option, as is the squared-off toe (see above.)
Styles, materials, and details
It's all in the detail this winter. From buckles to straps to laces to studs, it's all there – as long as it's interesting and unique. Suede makes a strong comeback, as does reptile skin, while mixed materials (combinations of leather, suede, metalics, all on the one piece) are prominent. Boots are anything from ankle to knee to over-the-knee.
Above the knee boots
What: Every socialite and off-duty model was photographed in her over-the-knee quilted Chanel boots last year. This year, above the knee boots are most popular in heeled versions (rather than small or flat heels) with suede the material of choice.
Seen on: Badgley Mischka, Akris, Fendi.
Verdict: Hot. Perfect over tights, long socks, jeans or pants.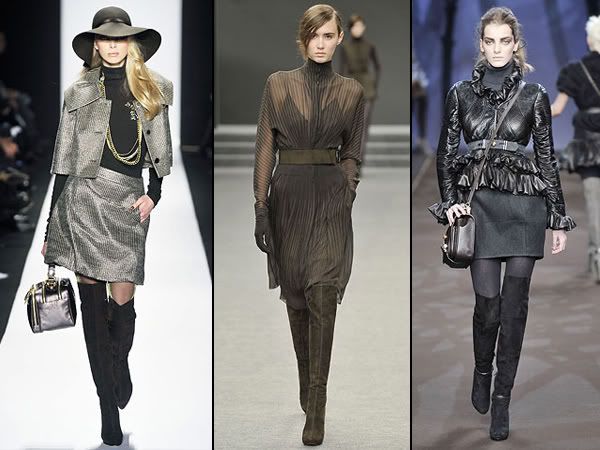 Lace-up Shoes and Boots
What: Laces and tie-up details are another continuing trend in 2008.
Seen on: The runways of Alexander McQueen, Bottega Venetta, Derek Lam, Dolce and Gabanna, Donna Karan, Galliano, Karl Lagerfeld, Prada.
Verdict: From Victorian influences to sexed-up school mistress heels, laces are lingering for a little longer and offer quite a few options of styles and heel-hights.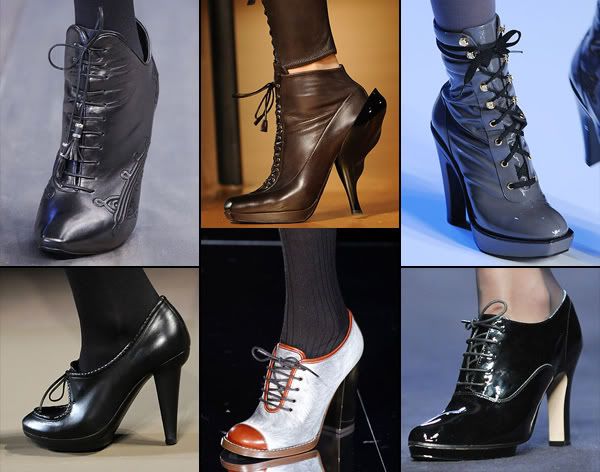 Mary-Jane with a Twist
What: The high-heeled Mary-Jane was a big shoe trend last year; but they were mostly sleek, feminine styles in patent leathers and with rounded toes. 2008 sees Mary-Jane back with a twist; or, lost of twists as seen down the runway. Double or even triple buckles are one common defining detail; bright colours, luxe fabrics or sharply pointed toes are other examples. Whatever it may be, the bottom line is it must stand out.
Seen on: 3.1 Phillip Lim, Alberta Ferreti, Chanel, Dell'Acqua, Marni, Versace, Zac Posen.
Verdict: High-heeled Mary-Janes strike a combination of school-girl sweet meets sexy vamp. Look for the interesting details which set apart the hottest buckled and strapped pumps of 2008.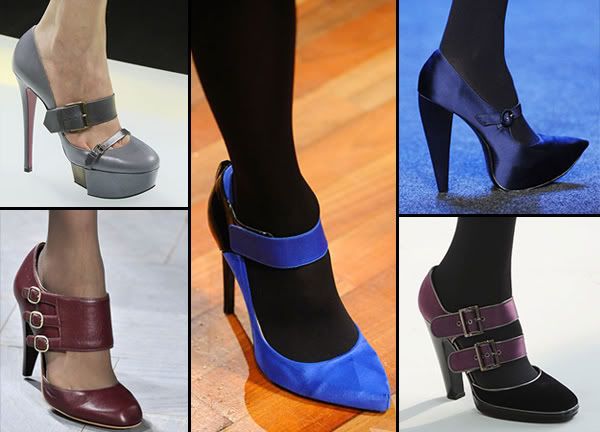 Reptile leathers
What: Alligator, crocodile, lizard, snake… reptilian skins are a major trend choice for 2008's footwear.
Seen on: Christian Dior, Ralph Lauren, Derek Lam, Cavalli, YSL and more.
Verdict: The feeling of reptile leather is that of something exotic and luxurious. In 2008 its use is in the most classic of ways; subtle, refined and yet bold. Avoid gaudy snake prints and cheap imitations; whether real or faux, it's all about the quality.
Fringing and Folk-Inspired
What: It's the new foho: folk-inspired with an ethnic twist. Fringed boots are the defining feature of the trend, with other details like studs and tooled leather adding to the crafty, bohemian feel.
Seen on: Gucci, Balmain, Anna Sui.
Verdict: Short fringed ankle-boots in leather or suede can look sexy with bare legs or tights. They can add a ruffian charm to a sophisticated outfit, or be thrown together with an everyday outfit for casual chic.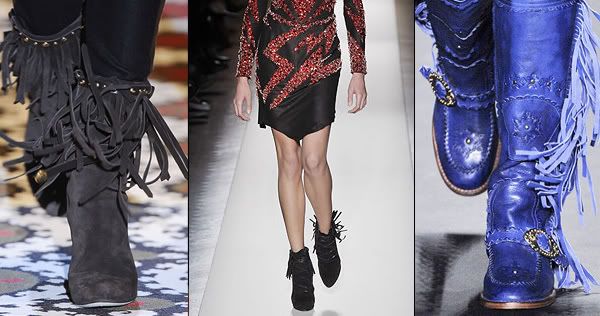 Open-toe shoes with tights
What: It used to be a massive faux-pas, but these days it's not just OK – it's fashionable. Open-toes or peep-toes with stockings, socks or tights underneath.
Seen on: The 2008 runways of Calvin Klein, Burberry Prorsum, Donna Karan, Valentino.
Verdict: Works wonderfully with like colours, especially black on black – but daring contrasts can also look great. It also means your Spring / Summer shoe collection can be worn in the colder months.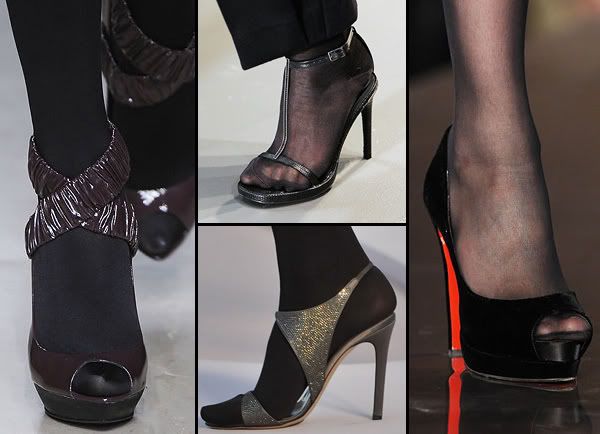 Colours
Two-tone and multi-colour
What: There's no excuse to be boring with your shoes when it comes to colour. At least, not anymore. The Autumn / Winter 2008 runways had barely a plain shoe in sight, with two-toned or multiple color taking over. Different elements of a shoe can be different colours, for example contrasting straps or heels.
Seen on: 3.1 Phillip Lim, Balenciaga, Alessandro Dell'Aqua, Chanel, Christian Dior, Dries Van Noten, Marni, Prada, Valentino.
Verdict: Don't think that a multi-coloured shoe can only be worn with a plain coloured outfit; use them to add colour and style to pretty much anything. For the colours themselves, they can be anything from bold bright colours through to classic shades of grey and black.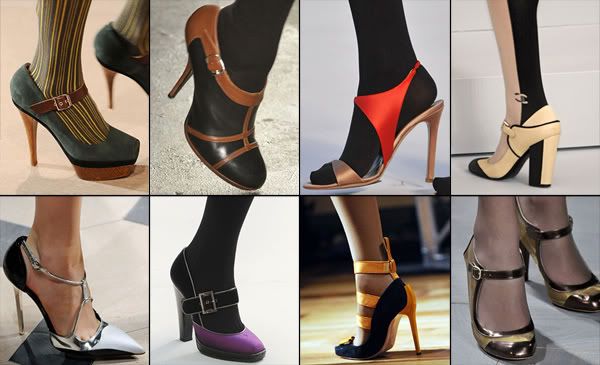 Recent Updates on 2008 and 2009's Shoe Trends
Nicole Richie wears the lace-up shoe trend

Kate Moss wears pointy lace-up ankle boots
Mischa Barton wears suede fringed foho boots

Sienna Miller and Keira Knightley wear laceup booties
Selma Blair: feminising flat lace-up shoes
Dita Von Teese wears the square-toe shoe trend
Stay ahead of the fashion, hair and beauty trends in 2009 with Fashionising.com'Äôs constantly updated Fashion Trends 2009 guide. You'll find out the latest on 2009 hair trends, women's Spring/Summer 2009 trends, and more!