It was as if a single, defined element was plucked from 1920s fashion revival, elaborated upon and then modernised. That element was fringing; and if there's one thing every girl should be partying in during Spring/Summer 2009, it's that perfect fringed piece.
Fringed pieces from Alexander McQueen, Jil Sander, Alberta Ferretti, Elie Saab, and Gaspard Yurkievich.
As a Spring/Summer 2009 trend the fringed dress or skirt becomes sleek, sexy and feminine – less theme-party flapper costume and more in the now.
Who designed it
On the Spring/Summer 2009 runways, this burgeoning trend was prominent. Alexander McQueen's pieces were more to the structured side with sinew-esque fringing slinking around the body. Jil Sander's fringing was long and free-flowing, Alberta Ferretti's delicately pretty; while Gaspard Yurkievich took inspiration more from the Burlesque than the Jazz Age.
How to wear it
It depends largely upon the style and themeing of the piece. A pair of long, toned legs work wonders for a short fringed skirt; those lacking need to be a tad more cautious. The appeal of fringing also owes alot to the way it moves, so pay careful attention to buying quality fabrics that shimmy and shine and don't clump unattractively together.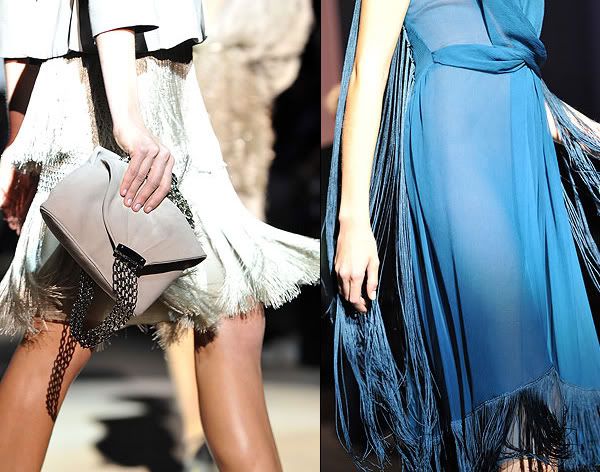 Made to move: fringing detail at Alberta Ferretti.
Fringing Trend Updates
Stay ahead of the fashion, hair and beauty trends in 2009 with Fashionising.com'Äôs constantly updated Fashion Trends 2009 guide. You'll find out the latest on 2009 hair trends, women's Spring/Summer 2009 trends, and more!