Just in case there was any doubt: gladiators are still the shoe trend for Spring-Summer 2008.
You see, I myself wasn't sure that they'd make it this far. After all, I'd first blogged about gladiator sandals and heels in the middle of last year when they were a staple of a fashionisers Spring-Summer 2007 wardrobe. And while there were positive reactions to looking Kate Moss wearing the look, on mere mortals the clicks weren't so kind.
Then there was this from The Sartorialist;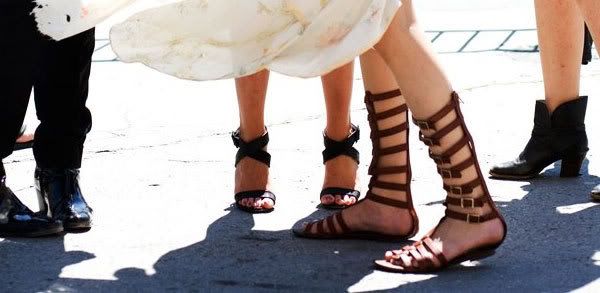 And before long, after trawling through our Paris street style, New York street style, and Stockholm street style forum threads it became blindingly obvious: a full season on, gladiators sandals and gladiator heels are very much the footwear look of Spring-Summer 2008.

More so, they're the look of the fashion lovers on the street, and not celebrity inspired. In fact, the only recent celebrity I've spotted wearing them has been Rihanna in Balenciaga gladiator boots and peoples' reaction to the look wasn't exactly positive.
Recent Updates on the gladiator sandal trend