It's a logical flow-on from the one-shoulder fashion trend; a new breed of draping Grecian Goddess dresses. A notable runway trend for 2009, anything with a Grecian or Romanesque inspiration is a sure hit for the Spring/Summer 2009 season.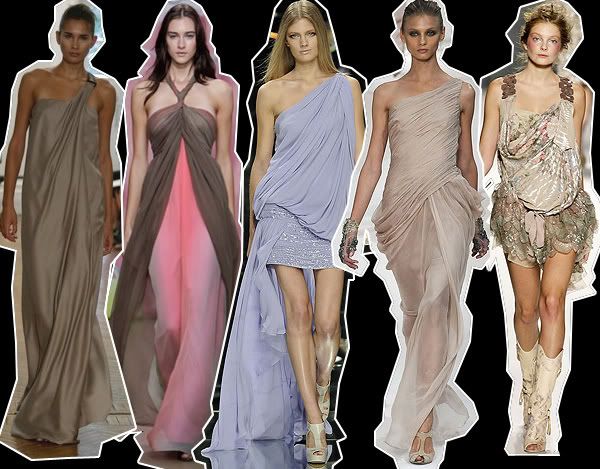 Runway looks from Chadwick Bell, James Coviello, Elie Saab, Valentino, and Kenzo.
Who Designed It
Classical one-shoulder draping graced the runways of Elie Saab, Valentino and others, while Kenzo's dresses had more of a Romanesque tunic feel to them.
How to wear it
Make use of the ongoing gladiator sandals trend of course! Pair a more casual Grecian dress with flat, buckled sandals, or a lush flowing gown with strappy heeled shoes. If the dress is plain, team it up with some exotic statement jewellery to bring it well into 2009.
Celebrities who are wearing the trend
Stay ahead of the fashion, hair and beauty trends in 2009 with Fashionising.com's constantly updated 2009 Fashion Trends guide. You'll find out the latest on 2009 hair trends, 2009 shoe trends and more!