Beauty and make-up trends in 2008 will take their cues from the same eras and influences that are influencing 2008's fashion and hair trends. From the bright red lips and accentuated eyebrows – channelling the 1930s' glamour of the Art Deco era – to the neo-bohemian dark eyes and sharp cheekbones – you'll find it all. Read on, and find out about all of 2008's make-up trends.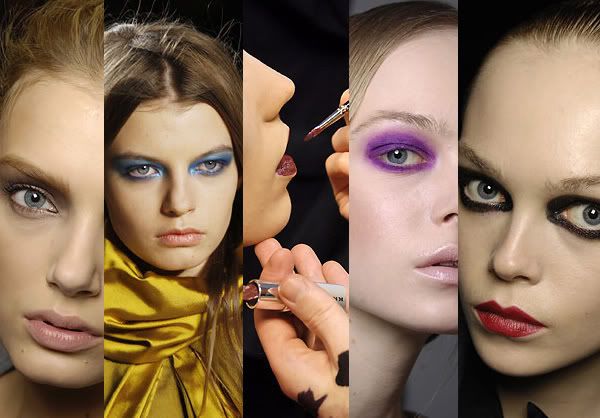 Lipstick Trends
Bright red lipstick trend
What: Bold, bright red lipstick channelling the seductive 1940s screen goddess, a la this year's Art Deco trend. Shades range from tangerine hues through to deeper reds, with fire-engine red still a favourite.
Seen on: the runways of DSquared2, Whyred, Zac Posen, Baby Phat.
How to wear it: with sleek, glamorous hair and a lick of black eyeliner.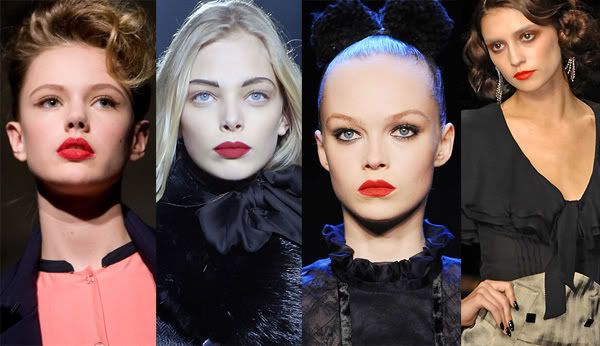 Updates on the red lipstick trend

Hayden Panettiere looks more mature with red lipstick

Eva Green does the bold red lips trend

Charlotte Casiraghi with classic bold red lips
Chloe Sevigny in the bright red lips trend
Dark lipstick trend
What: Daring, bold lips in shades dark colours, from burgundy shades through to blues and blacks.
Seen on: Rodarte, Baby Phat, Derek Lam, DSquared2, Yves Saint Laurent.
How to wear it: With plenty of attitude. Not everyone can pull this off, particularly in it's more out-there forms (a la YSL's gothic blacks). Deep burgundy can be bold elegance at night, while unconventional dark colours can add rockstar attitude to an otherwise demure ensemble.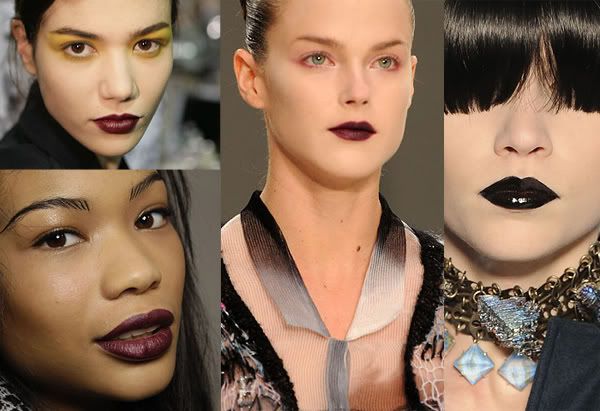 Berry-stained lips
What: Stained lips in berry colours of deep reds, blueberry and burgundy.
Seen on: The runways of Carolina Herrera, Peter Som, Donna Karan and Erin Fetherston, to name a few.
How to wear it: The only real necessity to this look is minimal makeup – it works best with a fresh face and child-like eyes, like a girl who's just tucked into a bowl of freshly picked berries. To add to the look, try a touch of white eyeliner to open up the eyes, and a dusting of pink or peachy blush.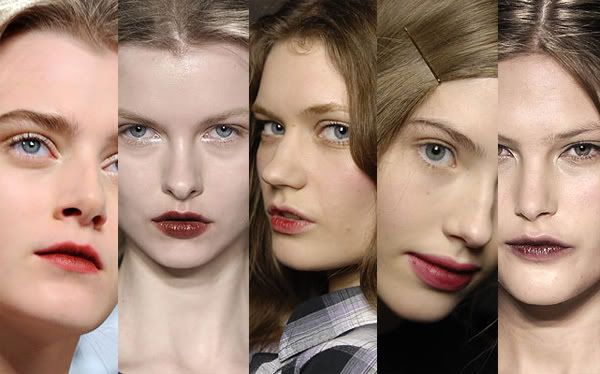 Nude and pale pink lips trend
What: Neutral colour, nudes and pale pinks on the lips.
Seen on: On the runways of Oscar del la Renta, Anna Suit, Versace, Fendi and many more.
How to wear it: As with the runway looks, nude lips can compliement the all-over fresh-faced natural look or sex-kitten smoky eyes.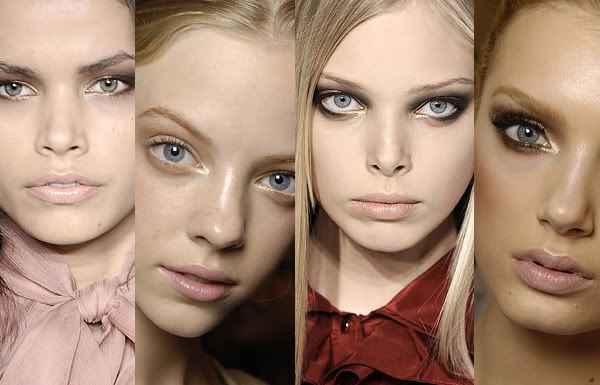 Updates on the nude lipstick trend
Mary-Kate Olsen in the nude lipstick trend
Bold pink lips
What: Though pink lips on the 2008 runways were mostly quite subtle, bolder pinks will definitely have their impact on makeup trends over the next few seasons.
Seen on: On the runways of Marc by Marc Jacobs, Michael Kors, Roberto Cavalli, Rodarte, Stella McCartney, Thakoon and Valentino.
How to wear it: Like any look where the lips are the focus, it's best to keep the rest of the face subtle; a touch of coloured eyeshadow, or some black eyeliner.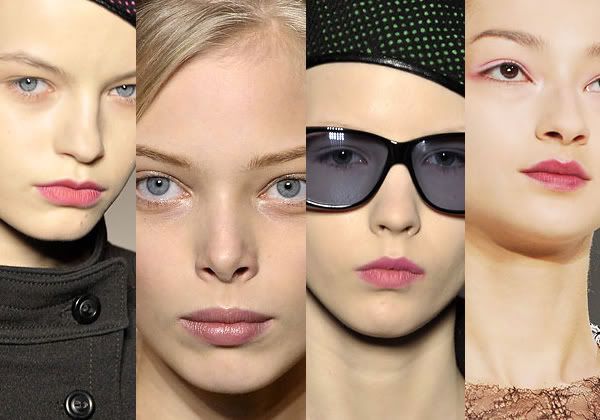 Updates on the bold pink lips trend
Lily Allen goes for bright pink lipstick and a dinner jacket
Kate Bosworth brightens up her black outfit with bold pink lipstick

Rihanna 's exotic skin tones and bright pink lips
Eye Make-up
Bright blue eye makeup trend
What: It's been a colour of caution since the 80s looks we don't really want to revisit. But in 2008 bright, electric blues are making a comeback in bold and interesting ways.
Seen on: Alexandre Herchcovitch, Threeasfour, Proenza Schouler, Dior.
How to wear it: In bold colour blocks, or a touch of bright blue mascara. Don't overdo the rest of the face – go for toned down lips and cheekbones to avoid looking clownish.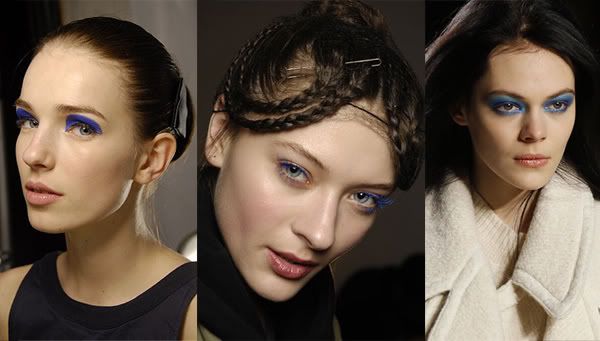 Shimmering bronze eye-shadow trend
What: Bronze eye-shadow highlights on the lids creating a shimmering metallic effect.
Seen on: Touches of bronze on many of the Autumn / Winter 2008 runways, with Oscar de la Renta, Tuleh, Nina Ricci and J.Mendel among them.
How to wear it: Blend with darker colours or gold highlights. Works fantastically with nude lips and bright eyes.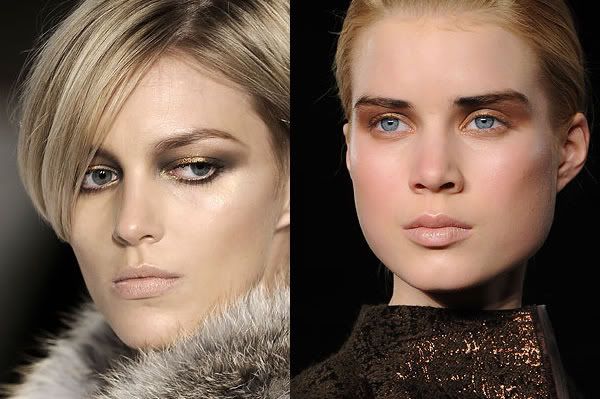 Dark & smoky eyes
What: It's fair to say that dark eye makeup rarely goes out of favour. In 2008, subtle and natural makeup looks are a favourite for daytime wear while super-dramatic dark eyes can be brought out at night for after-hours glamour.
Seen on: The Autumn / Winter 2008 runways were littered with dark eyemakup in varying degrees of dramaticism; from smoky gray lids at Lagerfeld through to Yamamoto's Batman-inspired black shadow. Gucci teamed theirs with bedhair and subtle pink lips, while Viktor & Rolf went for classic glamour – eyes rimmed with dark shadow, and lips immaculately painted red.
How to wear it: Make your eyes the focal point if you go for this look; either pale pink or neutral lips help to do this. If you do go for strong colour on the lips, follow the classic glamour of Viktor & Rolf (top left) with immaculately painted red lips and dramatic dark eyeshadow. Colour is big in 2008 so experiment by adding colour into the mix – a touch of bronze (like at Versace, top right) or a hint of blue or purple can lighten up the dark.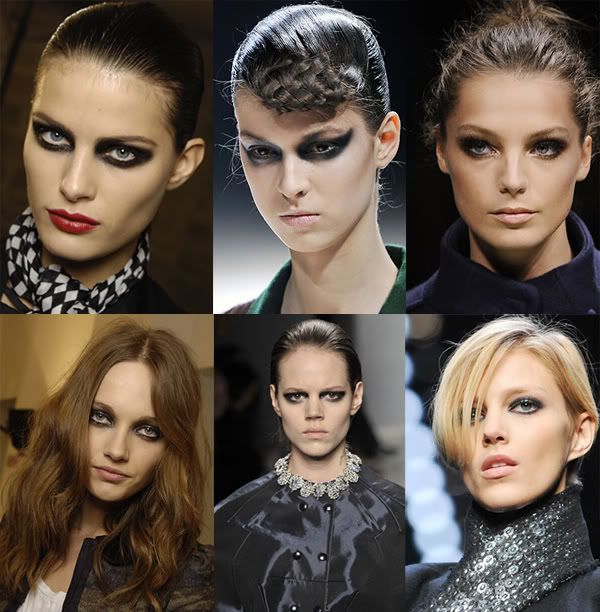 Cheeks
Soft pink blush
What: In contrast to the bronzed cheeks that have reigned for so long, 2008-09 sees a comeback of delicate soft pastel pink cheeks.
Seen on: Costello Tagliapietra, Thakoon, Narciso Rodriguez, Ralph Lauren, Anna Sui, Michael Kors, Marc Jacobs and Versace
How to wear it: For the most part this look works best in a girly, innocent way, especially when teamed with clear milky skin and minimal eyemakeup. On the other hand, Versace added softness to their sexy dark eyes with pink cheeks and pink lipstick – a look which can also work a treat if done correctly.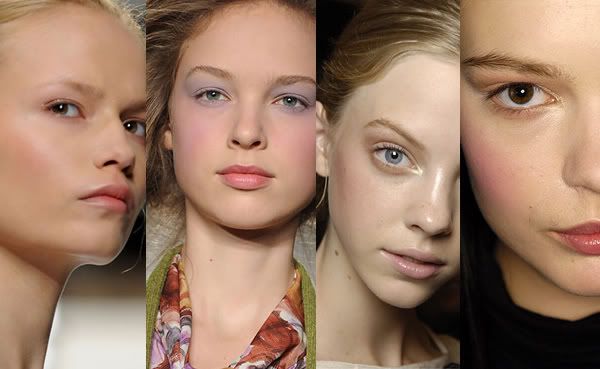 Eyebrows
Thick & dark eyebrows trend
What: Natural eyebrows took over from thinly plucked ones some time ago. Now they've taken a step further into being enhanced in thickness and darkness – and on the runways often combed upwards to make them appear even more bushy and prominent.
Seen on: Jeremy Laing, Prada, Dsquared2, Phillip Lim, Fendi, Dries Van Noten.
How to wear it: With perfect grooming and symmetry. Making the eyebrows a focal point means there can be no mistakes – they must be neat, even and symmetrical for this look to work.
Stay ahead of this year's fashion, hair, and beauty trends with Fashionising.com'Äôs constantly updated Fashion Trends 2008 bible! You'll find more articles like this, along with tips on key looks you should invest in and those to avoid.