There aren't all that many fashion accessories for men when one considers the sheer volume that exist for women. And of those that do exist, quite often you find that they're heavily associated with a sub-culture or movement that you're simply not interested in associating yourself with. Brooches for men are, however, one of the few men's accessories which can cross the sub-culture divides, are perfect for both Spring/Summer and Autumn (Fall)/Winter seasons, and are slowly making a come-back.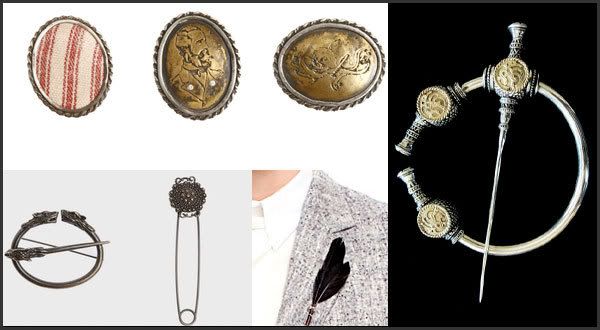 The Styles
As if taking their cues from the Cool Britannia revival, the most popular of men's brooches take their cues from vintage Anglo-Saxon, English and Scottish brooches, and old-world motifs such as stag heads.
Where To Buy
The men's brooches from the above picture are available from the likes of Urweg and Cooper-Hewitt.
If you're after a brooch from the Autumn / Fall 2010 men's collections then Yves Saint Laurent, John Varvatos, and Paul Smith all had offerings amongst their collections:
Personally I'm a fan of brooches of the vintage kind; for which you can turn to both vintage stores and eBay.
Trend Updates
Inspiration
If men's brooches are something you're looking to invest in, browse our inspiration board below.