Military fashion as a trend is nothing new, in fact I've been tracking its rise on Fashionising.com since 2008. But while fashion trends tend to burn out within a few years, the women's military fashion trend isn't going anywhere, though like all true fashion trends, in 2010 the military trend will evolve. Gone (but not quite) are the decadent lashings inspired by military uniforms of the Georgian and Victorian eras. Rather, military is now about functionality and utility. If the 18th and 19th centuries originally inspired women's military fashion, then it's true to say that in 2010 it's inspired by the military uniforms of the 20th century.
Think functionality. Think understatement.
Functional military clothing in 2010
Perhaps understatement is the wrong word for the military trend for Spring 2010 and Autumn / Fall 2010. After all, there are obvious military connotations – they're just not as obvious as in past years.
Key Elements
Women's military fashion runs parallel to the new men's military fashion trend in that there are several key motifs:
Army green is the colour, followed a distant second by navy.
A great coat / military jacket is the key piece for the Autumn (Fall) / Winter wearing of the style.
If army green is the trend's colour, then shearling is it's fabric. And that's because of it's dual use as a an embellishment on aviator boots / military fashion boots and a coat's collar.
How to wear it in 2010
For the military fashion trend pick from the two key looks: army and aviator.
While the army interpretation is all about army greens it can still be broadly interpreted and we've seen it styled successfully with everything from cropped shearling collared coats to loose fitting cargo pants. A word of warning though: we have the odd occurrence of camouflage print, we'd recommend you avoid it for the time being – it's simply too soon a come back.
For more inspiration pictures view the gallery at the bottom of this page or view the links in '2010 military fashion trend inspiration' for lots more pictorials.
The aviator interpretation of the trend is far less open. It's about a sleek look with slim cuts. And forget military green, this is all about darker hues with dark-brown leather jackets.
For more on the styling the aviator fashion look click that link for our dedicated article.
2010 military fashion trend inspiration
Military clothing pre-2010
While in 2010 military fashion as a trend would become all about army greens and utility wear, pre-2010 it was exuberant. Riding off the 1980s revival that helped define the fashion of 2008 and 2009, the military fashion trend of those years would have made Adam Ant proud – it was, after all, a reinterpretation of the decadent uniforms of the 18th and 19th centuries.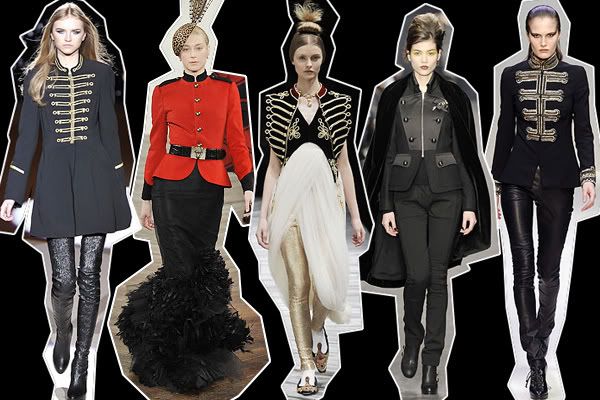 Military looks from Temperley, Ralph Lauren, Alexander McQueen, Derek Lam & Collette Dinnigan
How to wear it
Gold detailing and ornate trims set off slick military cuts. In 2009, there are a number of different looks you can create – from rock to edgy-feminine to bohemian.
Rock Chic
For the ultimate in rock chic, skinny pants or shiny leggings are the perfect accompaniment. Wear with killer heels and a killer attitude.
Feminine
In 2009 the almighty military jacket can also be played up with a feminine touch. Think Ralph Lauren; a boxy, red military-inspired jacket paired with a floor-length feathered gown. It's impractical, and it works.
Bohemian Luxe
Nothing compliments the Bohemian luxury fashion trend quite like a military-inspired piece. Team Gucci's over-the-knee fringed boots with skinny pants, foho prints, and a strict military jacket for a sexed-up bohemian look.
Decadent military uniform fashion inspiration