Need a sexy dress update for your wardrobe this Spring? Look no further than bearing a flash of cheeky shoulder with a beautiful one-shoulder creation. Shoulders are sexy. More mysterious than cleavage and more elegant than legs; shoulders remind us of the delicacy and vulnerability of the neck.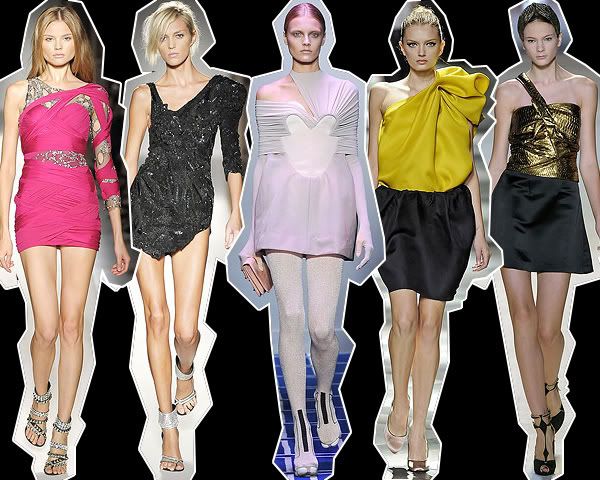 One-shoulder pieces at Balmain, Balenciaga, Lanvin and Sophia Kokosalaki, S/S09
Huge in 2008, one-shouldered pieces are again a major part of 2009's fashion trends.
But what's new?
After all, the one-shoulder concept is hardly revolutionary. On 2009's catwalks the one-shouldered dress sees a futuristic revamp for the end of the decade. Now one shoulder can be a take on elements of the cut-out trend revealing an additional glimpse of flesh, as seen in Balenciaga's lilac and grey space dresses (above). Or instead a combination of a long sleeve with a thin strap to give the impression of a ripped-off sleeve (grr), as seen with Balmain's rock-chic creations. Lanvin takes the more classical approach, incorporating Grecian folds to enhance volume and give a romantic floaty impression, whereas Sofia Kokosalaki keeps it simple and straight-forward in contrast to the more intricate designs seen elsewhere.
Fashionisers are already in the know.
As well as the long list of celebrities we've spotted in this trend Rachel Bilson has also embraced the look alongside Blake Lively at the recent Teen Choice Awards. Both wore simple one-shouldered mini-dresses, which stuck out because of their bold monotone use of colour and elegant details; Bilson's with regular-sized sleeves and a nipped in waist, Lively's rouching and accessorised with a leather belt.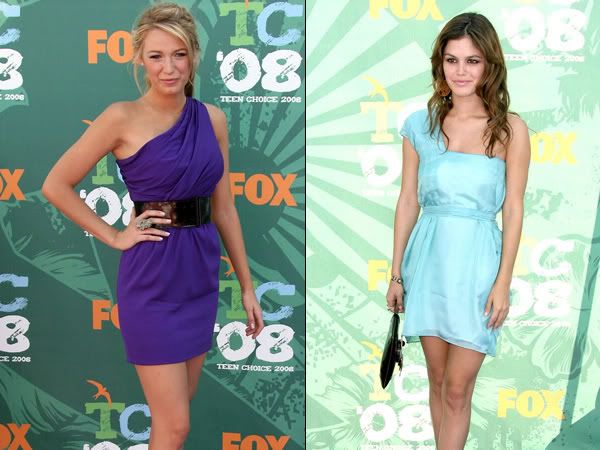 The Grecian roots of this look are still intact but beginning to metamorphose, but we can still pretend we are goddesses – after all, as seen on the runway and the red carpet, the shoulder is pure sex!
Article by Becky Cope.
The Whole Trend
To read all the details on this trend, visit our in-depth look at the one-shoulder clothing trend for 2009. And don't be surprised if you see it again in 2010! Or you can read up on all of 2009's fashion trends by following the links below.
Stay ahead of the fashion, hair and beauty trends in 2009 with Fashionising.com's constantly updated Fashion Trends 2009 guide. You'll find out the latest on 2009 hair trends, women's Spring/Summer 2009 trends, and more!