Forget about different toe shapes and heel heights; in Spring/Summer 2009 shoe trends all come down to the details.
From fringing to laces to buckles and straps; exotic to fetish to architectural; these are the elements that define the trends.
And one thing is for certain: boring just doesn't cut it.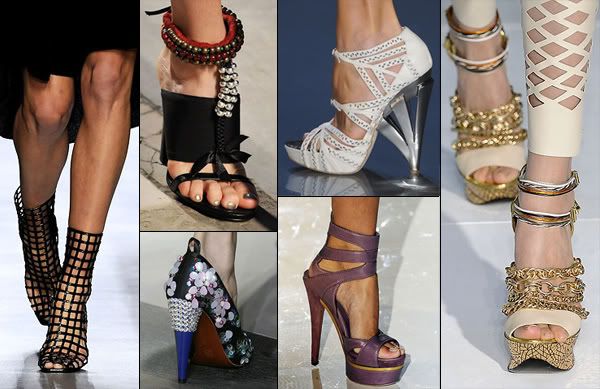 Read on to discover this year's shoe trends, check out the inspiration picture gallery down the bottom, and don't forget that if you want to keep up with current fashion trends to sign up for our free fashion newsletter.
You can also read up on Winter 2009 shoe trends by following that link.
Fringing: Fringed Shoes & Boots
What: An extension of one of the major Winter 2009 shoe trends, which saw folk-inspired fringing make its mark via the likes of Gucci and Balmain. The Spring/Summer version of the fringed shoe is lighter; more open; and has a more Western feel.
Seen on: the runways of 3.1 Phillip Lim and Ruffian; and the shelves of pretty much any high street store.
Verdict: Fringing will continue to be hugely popular through 2009 in both flat sandals and high-heeled styles. Stick to genuine suede in colours like camels, tans, browns and black.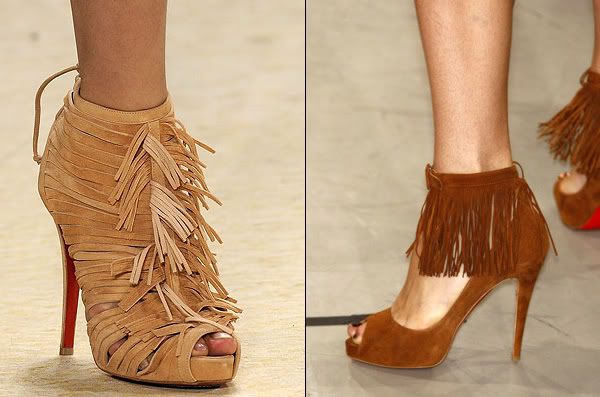 Fetish Shoe Trend: Studs & Chains
What: If bondage / fetish clothing was a trend on the Spring/Summer 2009 runways, it's no surprise that footwear has found the same inspirations. Studs, spikes and chains are some of the fetish-esque details that are finding their way onto shoes for 2009.
Seen on: From bold pyramid studs at Balmain to a more subtle, casual studded take at Anna Sui, to patent studded booties at Alexander Wang. Kenzo's shoes and boots also sported studded straps; and Rodarte's heels rebellious chain details.
Verdict: While this trend is around rock it, and rock it hard. Sex up a demure outfit with bondage details, but keep it luxe. Avoid: anything too chunky; cheap PVC.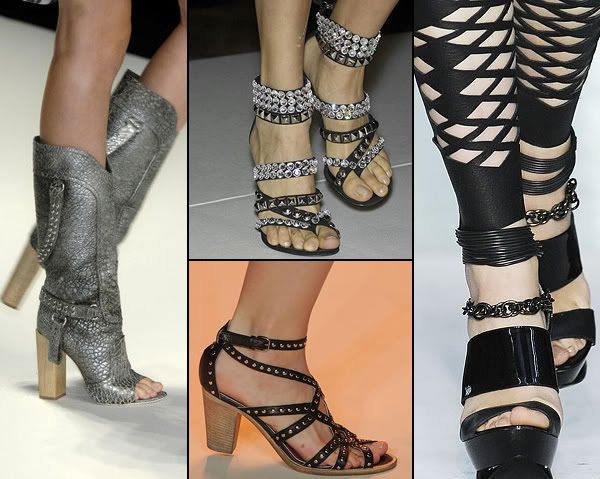 Exotic Details
What: Along with the exotic jewellery that accessorised many of the Spring/Summer 2009 collections, the theme also touched on footwear. Anna Sui's Egyptian-inspired sandals were standout, while embellishments like jewels and beading gave an exotic feel to various others.
Seen on: Anna Sui, Donna Karan, Dries Van Noten, Louis Vuitton.
Verdict: Flats can generally be very dull; make use of this trend to bring interesting, statement flat shoes into your wardrobe. As for high-heeled versions, they're also the perfect accompaniment to the grecian dress trend.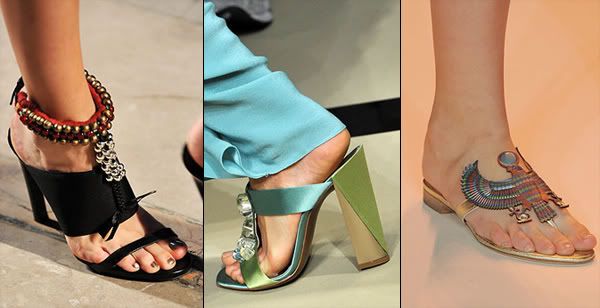 Gladiator Sandals
What: a long time in the making, this trend has finally reached a stage of mass adoption. Since we labelled it the must have summer shoe of 2008, the gladiator sandal has basically become a wardrobe staple; whether in flat or heeled form.
Seen on: La Perla, Anna Sui, Iceberg.
Verdict: You'll no longer stand out with this one unless they're truly unique; but the right pair will serve you well all through the warmer seasons.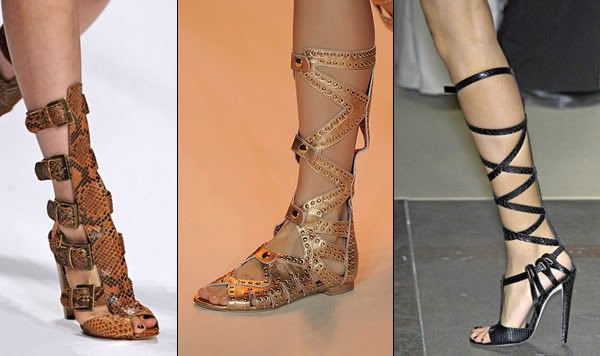 Reptile Leathers
What: flowing on from the Winter 2008 shoe trends, of which reptile leathers were a huge part, Spring/Summer 2009 sees a range of new interpretations.
Seen on: Dior, Tuleh, Ralph Lauren, Bottega Venetta, BCBG Max Azria, Carolina Herrera, Matthew Williamson, Thakoon and many others.
Verdict: We're pretty much sticking to our previous well-intentioned advice on this trend; avoid gaudy snake prints and cheap imitations; whether real or faux, it's all about the quality.
Tie-up & Lace-up shoes
What: Criss-crossing laces and ballerina ties.
Seen on: Dior, Phillip Lim, Lacoste, Marc by Marc Jacobs, Donna Karan.
Verdict: laces and ties add interesting detail to heels or flats. Lacoste's ribbon ties are the perfect casual summer version; for heels, leather lacing is the best option.
Ankle straps
What: One style that will pop up often in 2009 is the sky-high heel with straps around the ankle. Gucci's amazing platform shoe with triple ankle strap is the epitome of the look.
Seen on: Gucci, Oscar De La Renta, Pucci.
Verdict: Any shoe that stops at the ankle has a tendency to shorten the leg; so while tall girls can pull it off, others should be careful. If you do decide to try it, stick to the super-high heel and it will balance out the look.
Feature Heels
What: While shoe trends in previous seasons have been all about the moves from stiletto to chunky heels to wedges and back again, the current trend for is something new entirely. The heel is no longer just a structural support of the shoe, it's a feature.
Seen on: Christian Dior's carved tribal figures make for intriguing heel details. Alexander McQueen's heels get curly, Marc Jacobs' architectural, and Bottega Venetta's plaited in other prime examples.
Verdict: If you're going to be bold, be very bold. Make a statement and invest in pieces that will have long-term value.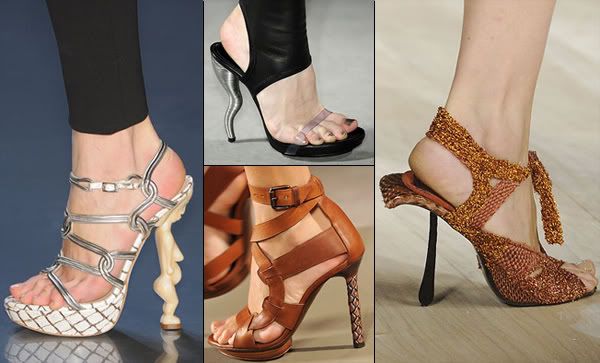 Shoe Trends 2009 Inspiration Board
Want to see more examples of 2009's shoe trends? Click on the gallery below for a photo gallery of Spring/Summer shoes; from runway looks to ad campaigns, to celebrity trend sightings we've got the pictures to inspired you no matter what your budget.
Stay ahead of the fashion, hair and beauty trends in 2009 with Fashionising.com's constantly updated Fashion Trends 2009 guide. You'll find out the latest on 2009 hair trends, women's Spring/Summer 2009 trends, and more!