One of the good advantages of living in the southern hemisphere is adopting the European summer looks months before they hit the stores in Paris, Milan, Berlin etc. Of course Melbourne has its own unique looks for this summer such as err… whatever it is they wear for overdosing on speed. I'm guessing Everlast singlet and fluro-green trunks. But the point is, why not follow suit of some Melbournians and give your "CBF it's too hot" shorts and tee combo a bit of a runway spin to it.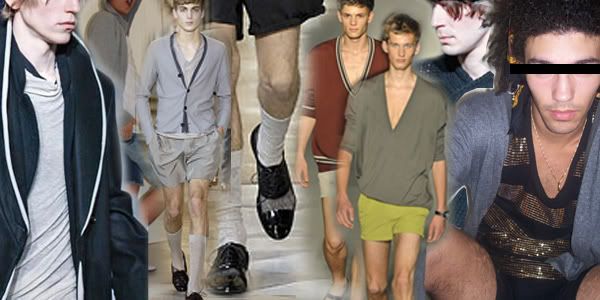 My favourite looks for this summer would have to be the inventive use of oversized light weight knits, with a pair of shorts. The look is very easy to assemble. Combine a thin cardigan, hoodie or jumper two sizes larger than what you would normally wear, with a t-shirt in thin polished cotton and put on a pair of tapered shorts. For the knits try sticking to the usual colours or experiment with muted shades of yellows and oranges. The shorts should be above the knee or higher, either in denim or light weight cotton fabrics. Keep the colours in the usual black, greys and navy colour or in patterns such as thin nautical stripes. And no, I don't mean zebra, or any animal print, or any animal print in fluro pink. If all else fails go get a pair of black stubbies. No, really.
I've spotted a couple of fashion heavyweights try this look with an Ann Demeulemeester knit in black and grey and another one in white with a hood. But the good thing is you don'Äôt have to spend half your rent on an oversized hooded knit; you can always go to Alpha 60 and get the carbon copy. I mean, alternative. Oops. Don't forget to wear it with some low cut canvas/leather sneakers or canvas espadrilles.
Give it a go yourself and I can guarantee all your friends will be all "step back / random / hot / massive / sick / weeoooo" or whatever it is we're saying this year. Keep in mind it's a good choice for a day out judging sales assistants but not to the beach and definitely not to a house party in Narre Warren. Cashmere does not mix with riot police, cheap alcohol, yellow frame sunglasses or semi-naked twister. Well, maybe just the twister.
imadeyoucool is the resident Fashioniser and certified Dior Homme addict keeping us in the know about men's fashion around Melbourne.