Unlike hair trends and clothing trends, spectacles and sunglasses trends seldom undergo any major change and flux. Looking back over the past 5 years, it's really only the re-emergence of oversized sunglasses which have caused the biggest stir. But that doesn't mean that that you can wear any old pair in 2008. While last year's pair will get you by, that's not to say they're going to be fashionable. Instead read on to find out which styles of sunglasses you should be wearing in 2008.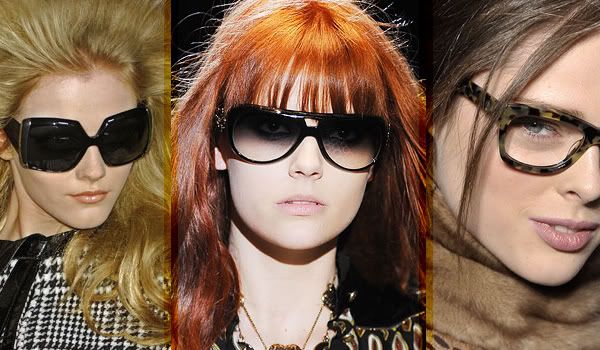 Ray-ban Wayfarers
A massive trend in 2007, the Ray-ban Wayfarer is not yet ready to die out. With major fashion influencers like Kate Moss still wearing theirs, the vintage Ray-ban trend will continue into 2008. As well as classic black, bright coloured frames are still in the picture, as well as the introduction of Wayfarers with duel-coloured frames.
1970s Inspired Thick, Plastic Frames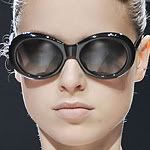 The revival of 70s fashion has been going on for sometime, but with 80s definitely fading, 2008 is the year it'll become much more obvious on the fashion scene. Naturally, 70s inspired glasses will be prominent amongst sunglasses trends for 2008 and thick, plastic frames will be one the year's key looks.
This is going to be an easy trend for many a fashioniser to keep up with after the 2007 Rayban Wayfarers trend, any many of 2008's sunglasses are going to take their cues from the look. Making it even easier is the fact that many a designer have sunglasses to fit with the look: there's a pair for women amongst Proenza Schouler's Fall-Winter 2008/2009 collection, Polo Ralph Lauren have an elegant pair for men, and you'll also find suitable designs from the likes of Dries Van Noten, Yohji Yamamoto, and Raf Simons.
This is also going to be a trend you can wear as a spectacles and not just sunglasses. Carrying on from 2007's 'librarian' look we've seen thick framed spectacles for both men and women on Michael Kors' Autumn-Winter 2008/2009 catwalk.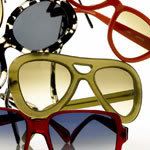 Selecting the right pair is crucial. Most importantly, when you choose a style of retro glasses be careful that you're not picking from a decade currently not in trend. While you'd get away with 60s inspired frames, loud 1980s inspired sunglasses are a definite no no as are the more eclectic, multi-tonal pieces from the 70s. Some of the sunglasses seen on Betsey Johnson's Autumn-Winter 2008/2009 catwalk are a prime example of those to avoid, while if you were after a safe bet for 60s inspired sunglasses you could turn to some pieces in Mulberry's Spring-Summer 2008 collection, avoiding their 80s and 90s revival pieces.
Round 'John Lennon' Sunglasses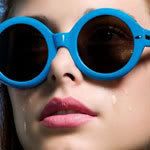 The comeback of the round 'John Lennon' sunglasses can really be considered a sub-trend of the thick plastic sunglasses trend, but as you could wear them with a think, metal frame we're considering this a separate frame. While we recommended one avoids Betsey Johnson's take on 1980s sunglasses, she was definitely on trend with round sunglasses. We've also seen them included in Karen Walker's Spring-Summer 2007/2008 collection and Moschino's Cheap & Chic Autumn-Winter 2008/2009 runway. But despite appear on both Spring-Summer and Autumn-Winter we can't really imagine this look being more than a one season wonder.
This is also a sunglasses trend only for women, while originally popularised by John Lennon any guys wearing these about town are going to come off looking like a sad git or Ozzy Osbourne. Perhaps that's the same thing.
Oversized Sunglasses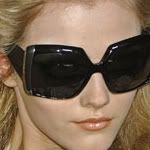 Oversized socialite sunglasses will go out of fashion at some stage, but it won't be in 2008 or 2009. Brought back earlier this decade by stylist Rachel Zoe and popularised by the likes of Nicole Richie, we've seen them on many of the Spring-Summer 2008 and Autumn-Winter 2008/2009 catwalks including Oscar de la Renta's Autumn-Winter 2008/2009 collection and Emporio Armani's Autumn-Winter 2008/2009 collection.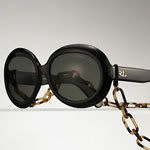 You'll be able to invest in several styles within the oversized sunglasses trend. Emporio Armani, de la Renta, and Christian Dior (photo, right) have all designed squared off versions of the look, and it's this style which is getting our preference for 2008 as it purposefully avoids appearing a part of the rounded lense trend. If you're not worried about the comparisons you can take a cue from the 1960s with a pair from Ralph Lauren. Classic in their design, these pair also tie in with 2008 and 2009's tortoise shell sunglasses trend.
Tortoise Shell
With fur a major clothing trend in 2008 it stands to reason that exotic materials will find their way to other trend, and while you won't be sporting real tortoise shell in 2008 you'll find the faux variety to be a popular element.
And element really is the key term here. We've seen tortoise shell included in a horde of different aspects; Ralph Lauren have taken a subtle route adding a much coveted tortoise shell chain to a pair of sunglasses, while Michael Kors have made an entire frame out of faux tortoise shell which could be worn both as sunglasses or spectacles.
Aviators
We first wrote of the aviators trend in 2007, and the great news is that they're still in fashion. What's even better is that the overall styling has hardly changed. Take a look at Kirsten Dunst (right) – taken in 2007 you can find very similar aviator sunglasses styles from most fashion houses.
As a key style for both men and women be sure to shop around. Depending on your face shape you may be able to find either a unisex, or grab a pair intended for the opposite sex. In particular, the latter will give you a more unique style and have you standing out from the crowd.
Gradient Lens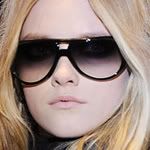 So far we've only looked at the frames on 2008's sunglasses trends. Much like clear and blue lenses in the 90s, this year will see attention paid to detailing of the lens itself. Of course, practicality dictates that this is an Autumn(Fall) – Winter 2008/2009 trend only but look for glasses where the colouring travels from black to clear, top to bottom. We've seen the look on many of the year's catwalks, including the pair right from Gucci's Autumn – Winter 2008/2009 runway. Gucci have also added a pattern to the gradient, which is clear in the picture montage at the top of this article.
Recent Updates on 2008's Glasses & Sunglasses Trends
Mary-Kate Olsen wearing half-tint round sunglasses

Kate Beckinsale wears oversized, gradient sunglasses

Mary-Kate Olsen in rounded aviators

Victoria Beckham in large aviator sunglasses
Kate Moss wears white plastic frames

Lily Allen in pink plastic sunglasses

Sienna Miller in tortoiseshell framed sunglasses
Stay ahead of this year's fashion, hair, and beauty trends with Fashionising.com'Äôs constantly updated Fashion Trends 2008 bible! You'll find more articles like this, along with tips on key looks you should invest in and those to avoid.