Big, bold, jewelry was a trend in 2008 that we recommended investing in early; and true to our prediction, statement jewellery has arisen to a new level of significance for 2009.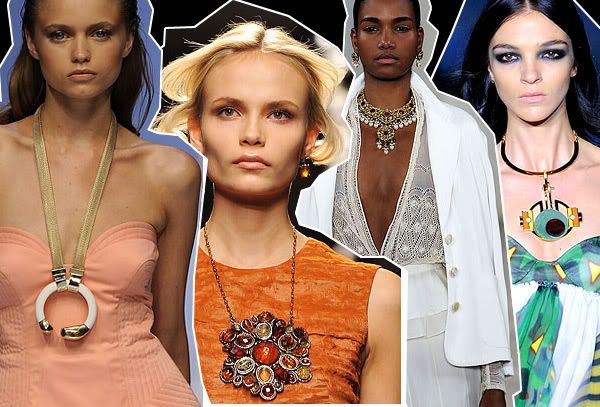 Statement Jewellery from Emilio Pucci, Bottega Veneta, Ralph Lauren and Roberto Cavalli.
Ranging from the wild, to the wonderful, to the downright wacky; out-there statement jewelry really made its mark on the 2009 Spring/Summer runways, but don't be dissuaded from wearing this fashion trend for Fall/Winter 2009 either!
Themes
Jewellery in the 2009 collections took many and various forms. There were a few common threads amoung them, however, including:

Geometric shapes
Exotic and ethnic inspirations
Rich colours; prominent stones and gems
Geometric shapes in bold colours saw Cavalli extend upon last year's Art Deco trend; while the likes of Ralph Lauren and Anna Sui embraced the exotic, the former with imperial-esque jewels and the latter with ethnic inspired beading.
Others such as Giambattista Valli and Christian Lacroix showed modern, avant garde designs.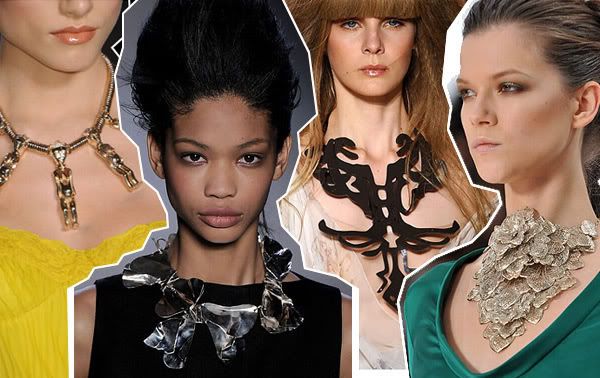 Statement pieces from Christian Dior, Giambattista Valli, Christian Lacroix and Valentino
Bracelets, bangles and cuffs
Bracelets took various forms on the runways – from simple chains to chunky bangles. It was the ornate cuff that really took trend status, however, worn on the upper arm or the wrist.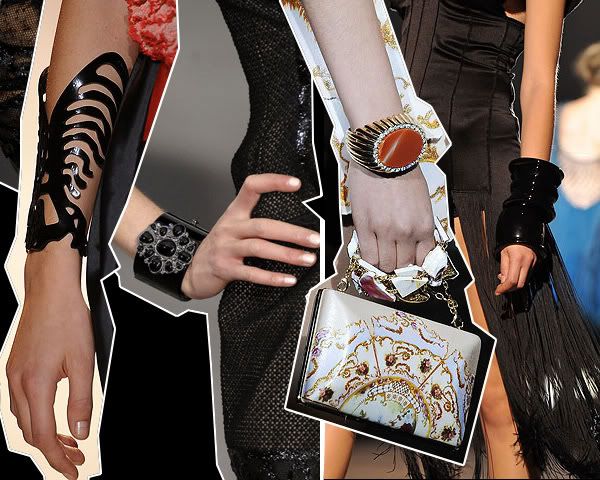 Christian Lacroix, Chanel, Roberto Cavalli and Alberta Ferretti.
How to wear this Jewellery Trend
The core difference between the previous season of bold jewellery and the 2009 trend is the clothing it's worn with. While 2008 was about playing down the clothing to make the jewels the stand-out feature, 2009 is not afraid to team wildly bold or colourful clothing with over-the-top accessories. Experiment with clashing colours and styles – make them as interesting as possible.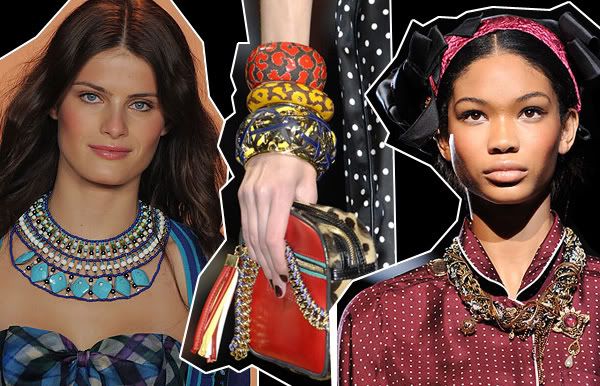 Anna Sui, Louis Vuitton, and Dolce & Gabbana team bold jewellery with bright prints.
For more subdued occasions, there's always the option to pair statement pieces with a little black dress, or even jeans and a tee. Whatever your preference, the bottom line is that when it comes to jewellery in 2009, the bigger and more exotic, the better!
Celebrities Wearing It
Stay ahead of the fashion, hair and beauty trends in 2009 with Fashionising.com's constantly updated Fashion Trends 2009 guide. You'll find out the latest on 2009 hair trends, women's Spring/Summer 2009 trends, and more!
Images via: style.com