Melbourne's heat wave may be too intense for some indoor barbecue bulgogi, but there is definitely something frying up in Korea.
My initial concept of Korean men's fashion was surmised from YouTube videos of hip hop bands and your garden variety of label whoring international students clogging up Collins St during Boxing Day sales. This was changed after befriending a like-minded Dior Homme addict from Korea, who introduced me to some of the most innovative fashion you could ever hope for.
Compared to its more popular rival, Japan, the leading designers of Korean men's fashion have created an aesthetic that is androgenous, less hardcore, and perhaps even more elitist. Even a quick google search would send any respectable heteropolitan packing off to Seoul and switching their Damier Geants for a Goyard suitcase. Yes they even have a Goyard!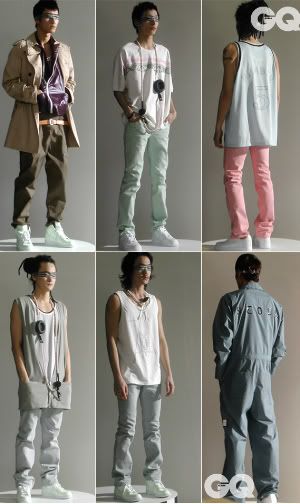 Men's fashion for this generation has created a strong following in this country. Irrespective of the style one chooses to follow whether it would be runway or street wear, they seem to come off just as anally retentive as the next I-don'Äôt-want-to-lose-face-so-I'Äôll-spend-big Asian. I mean that in a good I-have-a-love -for-fashion-and-I-encourage-spending type of way. Heck, this is probably one of the few countries where you WON'T get bashed at night in a park by skinheads for eye surgery and toting a Botega Venetta man bag. It'd most likely be a girl; a very poor girl.
But big brands aside, Korea has produced its own more silent Junyas and Miharas. Some of the more prominent labels/designers would be Lone Costume, Woo Young Mi and Suh Sang Young. These designers have been producing pieces which at first glance may tend to bite off from their European peers, such as Oxford Bags and pastel coloured denim but on the other hand have been toying with different concepts for many seasons.
One of the more interesting trends found years prior to it's inception in Europe was the use of heavier and larger pieces for the top whilst keeping the trousers tapered allowing one to bulk up their upper body muscles. This look found on the platforms of Prada and Alexander McQueen is predicted to explode during our Southern Hemisphere winter. Well maybe just Melbourne. This is a clear signal that the skinny boy look of years past is on a quick decline and allows us to channel our inner beefcake.
Unfortunately after searching every high-fashion stockists and hole-in-the-wall-behind-behind-the-alley-dumpster boutique, Melbourne does not have a great array of Korean High Fashion labels. But before you pack away your Gatsby hair product and cancel that appointment at Renaissance go check out Woo Young Mi at Marais Melbourne.
imadeyoucool is the resident Fashioniser and certified Dior Homme addict keeping us in the know about men's fashion around Melbourne.