Looking for something a little more current? Then forget 2009 hair trends, and look to Fashionising.com's in depth look at 2011 hair trends.
Back to 2009 hair trends…
There's little point in wearing clothes from 2009's fashion trends unless you have the one other major element just right: hair.
Taking their cues from 2008, in 2009 women's hair trends will play to the extremes. They might be extremely short, extremely girly, extremely sexual or extremely slick. It'll only be the bob hair cut which will sit somewhere to the left of extreme; and you're going to be hard pressed to find that hair style on fashion forward women.
If you're looking for men's 2009 hair trends, including styles, cuts, and colors click the link to read more. If you'd like to receive all the hair trend updates, subscribe to our free fashion newsletter.

2009 Hair Cut Trends for Women
2009 Hair Style Trends for Women
2009 Hair Colour Trends for Women
Women's Hair Cut Trends 2009
Throughout 2008, women's hair cuts did one thing: they got shorter. There was the bob hair trend, the pixie-crop hair trend, and a plethora of others in between.
And unlike the length of women's hair, their popularity grew.
Which leaves us with an interesting predicament for 2009's hair trends: the fashion forward, short hair styles of 2008 are no longer fashion forward. They're no longer unique. Every woman and her chuiauia got one.
So in 2009, fashion forward girls have a choice to make: keep the bobs and blend into the crowd or, to stand out, cut their hair shorter or let it grow.
The Cropped Bob & The Pixie Crop
Girls who cut the bob in 2008 and want a fashion forward look in 2009, are going to have to either let their hair grow out or go something more extreme. Enter the cropped bob and the pixie crop; both perfect for Spring/Summer 2009, but far more difficult to wear for Autumn (Fall)/Winter 2008/2009.
The Cropped Bob


To put it bluntly: the cropped bob is extreme. It's not quite a pixie crop (below) nor a bob. Short all over, even with a heavily shortened blunt cut fringe, it's can only be worn by those who ooze confidence. Just look at Agyness Deyn's cropped, fringed bob (right). Attention grabbing, it's even far less subtle with peroxide blonde hair which I'm tipping as the best colour to wear it with.
Back To Top
The Pixie Crop
The pixie crop started as a hair trend in 2008 but, as a natural progression from the bob hair cut, expect to see plenty of it in 2009.
The pixie crop has been updated for 2010. See our 2010 hair trends bible for all the details.
For those fashionisers who are willing to really take scissors to their hair, the pixie crop offers a bold look far less subtle than the cropped bob, and one that is both young and funky when done right. And doing it right has everything to do with the styling: as we learnt from Katie Holme's pixie crop a lack of styling and product and you can look suddenly middle-aged.
Back To Top
The Bob
Perhaps both the cropped bob and pixie crop are too extreme for you? Or perhaps you've just got a bob and are eager to keep it. Never fear, the bob hair cut is still in fashion in 2009. It's just not as unique, but paired with the right clothes (check out 2009's Spring/Summer clothes trends here) and hair style you can still own this look.
And what hair styles should you pair a bob with in 2009? If you're bob is chin length, look at sexing it up with the bed hair style, or if your bob is shoulder length also consider an adaptation of the mermaid / 1940s wave style as well as bed hair.
Back To Top
Long Hair
You got short hair trends in the form of the pixie crop and the cropped bob, and in the middle is ye olde simple bob; so what does that leave us with? Long hair in 2009. And it's what I'm imploring all girls grow.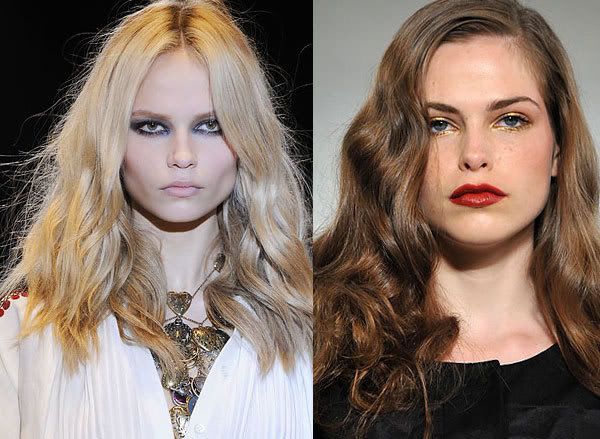 You see, the bob is done and dusted for the truly fashion forward, and the shorter variations simply aren't going to suit everyone; but long hair? Long hair, cut and layered correctly leaves you able to take advantage of most of 2009's hair style trends. Consider just a few of the looks from the Spring/Summer 2009 catwalks.
Back To Top
Women's Hair Style Trends 2009
Flowing: 2009 long hair style
Add a bit of oomph to a long hair style by wearing it in a heavily voluminous fashion, a look perfect for pairing back with 2009's Bohemian Luxury Autumn (Fall)/Winter fashion trend.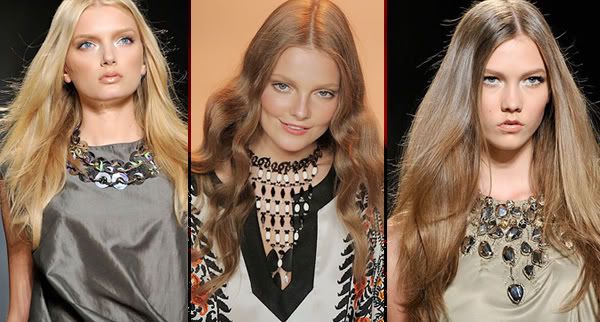 Flowing hair trend on Donna Karan (left and right) and Anna Sui Spring/Summer 2009 runways (middle)
Straight and Sleek: 2009 long hair style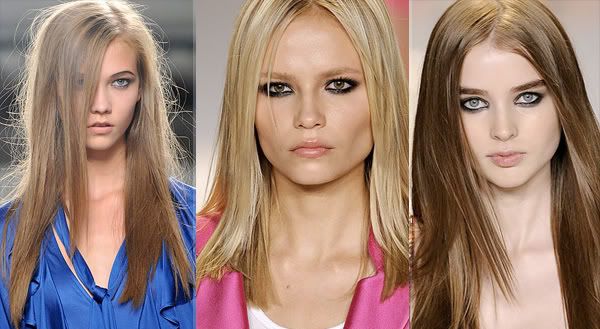 Sleek and straight hair trend on Doo Ri (left) and Matthew Williamson runways (middle and right)
Back To Top
Mermaid / 1940s Waves with Side-Part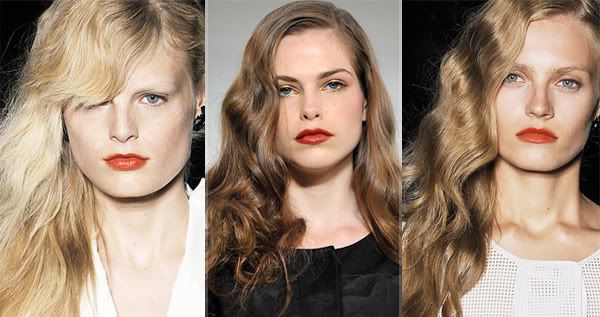 1940s Waves with Side-Part hair style on Proenza Schouler (left and right) and Tuleh runways (middle)
Back To Top
Milkmaid braids are our first tip for women's 2009 hair style trends, as socialites and celebrities are increasingly seen with them off the red carpet. Like so many other trends of recent times, it was Sienna Miller (left) who did the most to push the look but that was way back in 2007. In 2009 it seems that milkmaid braids will be a hair style trend on and off the red carpet.
Back To Top
Women's Hair Color Trends 2009

When she wore a peroxide blonde, blunt-cut fringed hair style in 2007, hypermodel Kate Moss set two 2008 hair trends at once. And at the tail end of 2008, she may have done it again. In a photo shoot for Interview magazine, you'll find a peroxide blonde Kate Moss; one likely to make peroxide and even platinum blonde a key hair color trend in 2009.
Back To Top
Where to next?
Read up on more recent hair trends by visiting our 2011 hair trends bible.