It's no great secret that the humble leather jacket has become a wide-spread wardrobe staple over the last few Winters. As a fashion trend in 2010, however, women's leather clothing is being taken to a whole new level.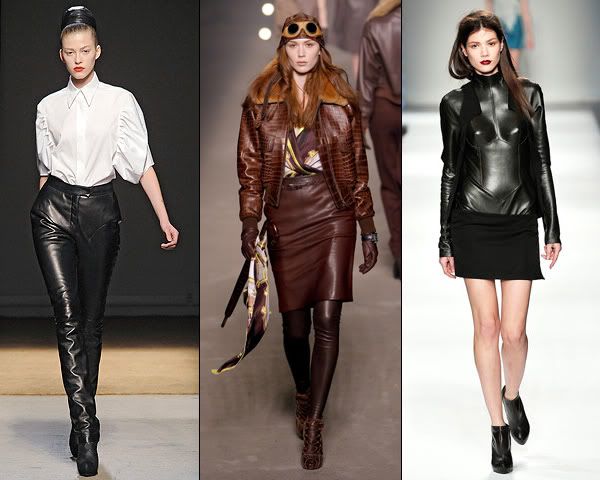 Leather Clothing
Leather in 2010 can take the form of pretty much any item of clothing. If you can name it the odds are that someone's sent it down the runway in leather. Pants, skirts, shorts, coats, capes, vests; they're all there. Hermes even pulled out a full leather jumpsuit as part of their aviation-themed collection.
Leather Underwear
With lingerie as outerwear a major fashion trend, it's no surprise that this trend will move into the realm of leather underwear. Bondage elements like harnesses and leather straps are creeping their way into mainstream fashion; while the likes of even Yves Saint Laurent have seen daring leather corsetry pieces hit the runway.
Leather Accessories
While of course leather bags and belts are nothing new, leather in other types of accessories will, in 2010, be much more common. Leather leggings were huge on the Autumn(Fall)/Winter 2010 runways.
How to wear it
Whilst some collections – like the afore-mentioned Hermes Autumn(Fall)/Winter 2009/2010, and Donna Karan Autumn(Fall)/Winter 2009/2010 – used leather pieces for a classic vintage-inspired look, most 2010 leather fashion pieces fall into the rock-chic and fetish camps. Balmain epitomised the look with tiny skin-tight leather minidresses, as did Miss Sixty with their zip-covered leather hotpants. (See 'Inspiration' below for pictures)
Colors
While 2009 fashion color trends featured a vast array on leather colours, the leather in 2010 will revolve around monochromatic and earthy tones.
Yes, Elise Overland's 2010 collection may feature the likes of teal-green, but such colours are never going to find mass appeal.
Rather, expect to see a big comeback for grey leather, precipitated in part by Rodarte and their grey thigh-high boots. Black is, of course, a safe and unwavering option though if you're after a country-inspired looks opt for tans and browns.
Inspiration
Looking for a little inspiration for this 2010's women's leather fashion trend? Click on the thumbnails below to peruse the full sized pictures. You'll find everything from leather jackets to leather mini-dresses.